A Success Story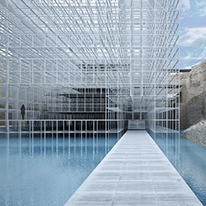 THE INTERNATIONAL PRESS CAMPAIGN FOR THE BEIRUT MUSEUM OF CIVILISATIONS BY GALAL MAHMOUD ARCHITECTS
Our mission
Galal Mahmoud Architects entrusted Communic'Art with a mission of consultancy in communications and press relations for its "Museum of Civilisations" project in Beirut.
The GM Architects firm, which is an expert in luxury tourism and specialises in the creation of top-end hotels and resorts is one of the biggest architecture firms in Lebanon.
The Museum of Civilisations project, designed by Galal Mahmoud, was presented at the Venice Biennale in 2014. 
The museum was planned to be located in the heart of Beirut, showing visitors a site excavated into the strata of the civilisations that lie beneath the current city of Beirut.
This is an unusual, deeply humanist museum project, simultaneously an archaeological site and a place for both exhibitions and mediation, giving an overview of the cultural wealth of Lebanon.
Results
This project, which is still in the planning stage, has benefitted from extensive international media coverage through the staging of its strong proposal at international level, proof of the expertise, experience and vision of Galal Mahmoud Architects.
Communic'Art obtained exceptional international coverage for this project, both in the printed press, on the web and on TV and radio.
The Museum of Civilisations caught the imagination of the industry and has now received 4 awards, including that of "future project of the year" at the World Architecture Festival in Singapore.
It has increased the reputation of GM Architects and enhanced the firm's image.
GM Architects is now the only architecture firm in the Middle East referenced by Accor, Rotana, Starwood, Jumeirah and Rezidor for the quality of its services and relevance of the choices it makes.