News
Pierre Bonnefille JOINS AD INTÉRIEURS FROM 4 TO 22 SEPT WITH HIS 'CABINET D'INSPIRATION'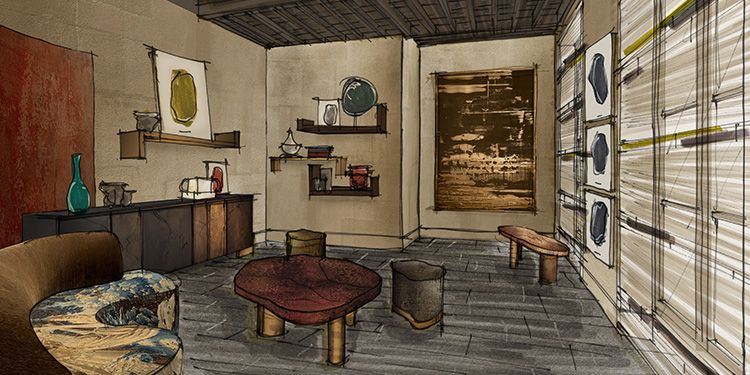 About
Pierre Bonnefille presents his "cabinet d'inspiration, empreintes de voyages", for AD INTÉRIEURS 2019
From 4th - 22nd SEPTEMBER 2019
HOTEL DE COULANGES
37-35, Rue des Francs-Bourgeois
75004 PARIS
AD Intérieurs marks its tenth anniversary this year, with the exhibition being held from September 4th to September 22nd 2019.
Pierre Bonnefille has decided to dream up a 'cabinet d'inspiration' for his first submission to AD Intérieurs – a living room like no other, filled with poetry, just like his work, a showcase for the traces of his travels.
A celebration of the very act of getting away from it all, Pierre Bonnefille lifts the veil on the physical traces of his travels, individual sources of inspiration collected by the creative over the course of his wanderings.
As an inveterate explorer and 'colour collector', the artist is constantly picking out a material here, an object there, pigments everywhere, ranging from old fabrics to precious stones. Eclectic and often eccentric, upon close examination, they all demonstrate their inextricable bond with the material world.
These elements and traces drawn from nature and brought back from Asia, Iceland, Patagonia and Thailand are at the very heart of his work. 'These collections actually give rise to artistic creations'.  From them spring photographs, watercolours and drawings, which in turn give rise to items of furniture, paintings and wall designs...
The 'cabinet d'inspiration' has been laid out for AD Intérieurs in such a way as to illustrate this artistic process. We begin by entering a kind of ante-chamber adorned with a wealth of different drawings, the forerunners to any act of creation. The space has an intimate feel and we slowly discover the artist's most recent works, which evoke his many discoveries.
During this journey of many ports of call, we will encounter Japan in the shape of the 'Furoshiki' series, inspired by the traditional Japanese art of fabric wrapping and Africa, with the 'Metamorphosis' collection of furniture inspired by the discovery of stones from old African copper mines. Gaze upon the Bronze Painting and its delicate designs that shift here and there according to the light to discover this Odyssey's meditative side.
Pierre Bonnefille has truly worked wonders here, conceiving a number of completely unique creations for this exhibition. As always, particular attention has been paid to materials and colours.
This 'Cabinet d'Inspiration' is simultaneously a memory, a mental reconstruction and a 'room for travelling'... 'a treasure trove of inspiration' gifted to us by the artist, gathered together in the space where art collection and the traces of his travels merge.
The "cabinet d'inspiration, empreintes de voyages"
by Pierre Bonnefille
for AD INTÉRIEURS 2019
from 4th - 22nd SEPTEMBER 2019
HOTEL DE COULANGES
37-35, Rue des Francs-Bourgeois,
75004 PARIS
About
Pierre Bonnefille presents his "cabinet d'inspiration, empreintes de voyages", for AD INTÉRIEURS 2019
From 4th - 22nd SEPTEMBER 2019
HOTEL DE COULANGES
37-35, Rue des Francs-Bourgeois
75004 PARIS