News
"ARCHITECTURES", FUNCTIONAL SCULPTURES BY KARL LAGERFELD AT Carpenters Workshop Gallery I PARIS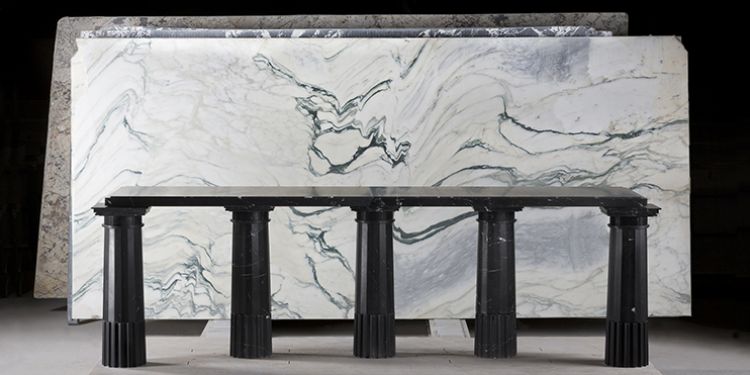 About
KARL LAGERFELD 
ARCHITECTURES 
Exhibition from 19 October to 22 December 2018
Carpenters Workshop Gallery
54 Rue De La Verrerie, Marais, Paris 75004
Carpenters Workshop Gallery | Paris, is pleased to introduce Karl Lagerfeld's first ever sculptural works exhibition, Architectures, from 19 October through 23 December 2018.
Architectures is an art collection of functional sculptures designed by Karl Lagerfeld and inspired by Antiquity, referred to as the origin of beauty, culture and modernity by the designer.
Evoking a contemporary architectural landscape with Greek origins, the unique pieces combine the precision of canonical proportions born from the use of the golden ratio and the most noble material, marble. The ensemble of gueridons, tables, lamps, consoles, fountains and mirrors materialize the perfect balance of classical foundations with a present-day vibe, like a modern mythology.
Each piece is carved from a carefully selected marble block, the Arabescato Fantastico, a rare vibrant white marble with dark grey veins which has not been quarried for more than thirty years, or black Nero Marquina marble, curated for its brush stroke-like, milky white veins. The combination of the material uniqueness with the timeless designs makes every piece exclusive.
Only available as limited edition of eight pieces in each marble color, plus four artist proofs, each sculptural work is made with the special marble, which is then precisely cut, sculpted, faceted and polished in Italy by the best craftsmen, to achieve the vibrant exactness of the elements.The lighting works diffuse a specific daylight, the designer particularly appreciates, like a laser blade from the future. The shades of the table lamps are distinctively hand-painted in the most traditional technique of decorative arts, pushing the boundaries of craftsmanship and traditions.
Shifting between the antique and the contemporary, the icons of classics and the finest present skills, the black and white architectonic creations embody Karl Lagerfeld's timeless monochromatic style. The architect Aline Asmar d'Amman carried out the studies and the development of the works created by Karl Lagerfeld. All the works in the Architectures limited edition stay true to Carpenters Workshop Gallery's passion for blurring the boundaries between contrasting disciplines of creativity, art, design and fashion.
About
KARL LAGERFELD 
ARCHITECTURES 
Exhibition from 19 October to 22 December 2018
Carpenters Workshop Gallery
54 Rue De La Verrerie, Marais, Paris 75004