News
Carpenters Workshop Gallery, PARIS, PRESENTS "ATLAS 2000", A SOLO SHOW BY FREDERIK MOLENSCHOT FROM JUNE 2 TO SEPTEMBER 1, 2023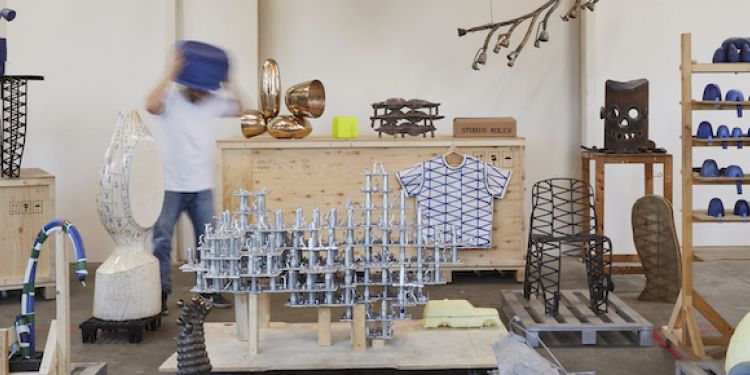 About
Exhibition :
From 2 June to 1 September 2023
Carpenters Workshop Gallery :
54 rue de la Verrerie, Marais, Paris
Contact presse :
Adèle Godet
agodet@communicart.fr
+33 (0) 6 30 79 44 80
Carpenters Workshop Gallery are delighted to announce the first solo exhibition of Dutch artist Frederik Molenschot's work, ATLAS 2000, from June 2 to September 1, 2023, in its Parisian space at 54 rue de la Verrerie in the Marais district of Paris.
Occupying the first floor, this exhibition will feature new works from Molenschot's latest research – Gingerblimp, Artificial Forest, Bridge Beat, S TATI CA, The Grasspeople, and Cosmos Life – offering a unique glimpse of his talent.
The Gingerblimp, Artificial Forest, and Bridge Beat series illustrate Molenschot's expertise in using materials such as steel and bronze to create monumental and beautifully detailed pieces. Gingerblimp presents organic and strangely familiar structures, while Artificial Forest explores the tensions between nature and artifice. Bridge Beat is a series of imaginary bridges, reflecting the artist's fascination with architecture and engineering.
Represented by the gallery since 2008, Molenschot is widely recognised for his distinctive aesthetic, which combines traditional skills with modern technologies. The choice of Paris was motivated by the dynamic cultural energy of the city which fosters a receptive audience for Molenschot's unique perspective.
Molenschot's works embody a unique fusion of past and present, combining noble materials and elegant forms with cutting-edge technology and contemporary cultural references. Considering himself a landscape sculptor – he sculpts what he sees in landscapes. The multidisciplinary artist – known for his innovative approach and his mastery of ancient techniques such as metalwork, foundry, and engraving, explores themes of history, nature, and technology. Creating art objects that have the power to captivate and inspire their audience.
About
Exhibition :
From 2 June to 1 September 2023
Carpenters Workshop Gallery :
54 rue de la Verrerie, Marais, Paris
Contact presse :
Adèle Godet
agodet@communicart.fr
+33 (0) 6 30 79 44 80