News
The INSTITUT DES CULTURES D'ISLAM, Paris, presents "JAVA-ART ENERGY"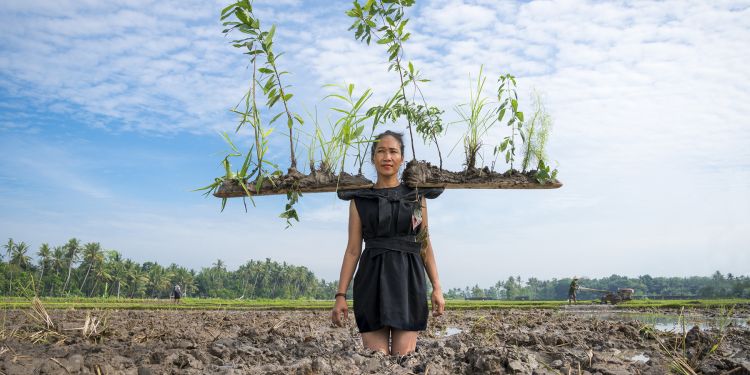 About
JAVA - ART ENERGY
27 September 2018 - 24 February 2019 
Opening: 26 October 2018 
ICI Goutte d'Or: 56, rue Stephenson – 75018 Paris
ICI Léon : 19, rue Léon – 75018 Paris
The Institut des Cultures d'Islam, Paris, presents "JAVA - Art Energy", from 27 September 2018 to 24 February 2019, an exhibition of previously unseen works of art that explore the artistic vitality of Java, the island that has become a creative hub for many Indonesian artists. "JAVA - Art Energy" is the first collective exhibition in Paris devoted to contemporary Indonesian art.
At the heart of a complex society
The wild acceleration in urbanisation has come at the cost of the disappearance of biodiversity, marked by colonialism and rise in radical Islam: some of the many themes tackled by the 13 artists who have been brought together in an unprecedented way for this exhibition, which through various perspectives, indicate contradictions and differences within the Javanese society, held between earthly rituals and hyper-connectivity.
Some artists reinvest in popular arts, such as Ramayana and Mahabharata-inspired shadows, or the history of colonialism and its consequences on the territory, while others use the adventures of Tintin or redraw 'La liberté guidant le peuple' by Eugène Delacroix, using Javenese writing.
Other artists look at how spirituality and religion are negotiated daily in a country, where they have the highest proportion of Muslims in the world, but also Christians, Hindus, Buddhists and Confucians, as well as local beliefs.
The rest are concerned by environmental degradation associated with uncontrolled urbanisation through a series of charged works.
Artistic vitality & creative energy
From the sprawling megalopolis of Jakarta to the humid Bandung mountains, to the city of art and culture of Yogyakarta, these works, most of which have never been shown in Europe, express with incredible energy cultural diversity, complexity and vibrations of this island with multiple influences, which today has nearly 150 million inhabitants.
Photographs, paintings, installations, comic strips, videos ... the exhibition stages this abundance of mediums and aesthetics freely inspired by romanticism, Art Brut, comics, street art, landscape painting and the psychedelic universe.
The energy and vitality of the island will be expressed through mediums such as; concerts, dance and shadow shows, films, conferences, and activities, primarily for young audiences.
Finally, to recreate the lively atmosphere of the streets of Yogyakarta, a piece will be produced during the exhibition itself, in the heart of the Goutte d'Or.
About
JAVA - ART ENERGY
27 September 2018 - 24 February 2019 
Opening: 26 October 2018 
ICI Goutte d'Or: 56, rue Stephenson – 75018 Paris
ICI Léon : 19, rue Léon – 75018 Paris