News
"C'EST BEYROUTH", PHOTOS AND VIDEOS, AT THE INSTITUT DES CULTURES D'ISLAM, PARIS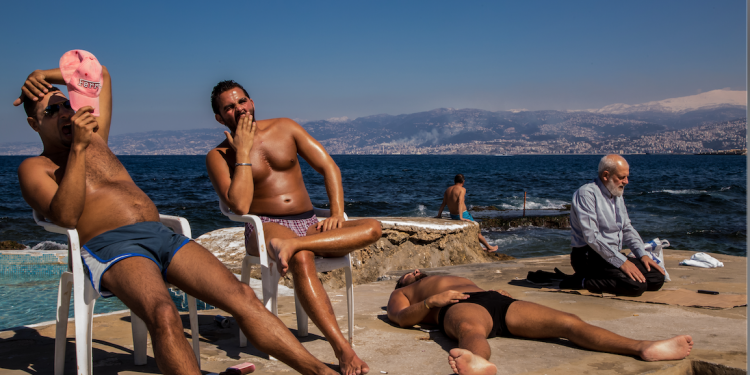 About
"C'EST BEYROUTH"
28 March - 28 July 2019 
Opening - 27 March 2019 
ICI Goutte d'Or: 56, rue Stephenson – 75018 Paris
ICI Léon: 19, rue Léon – 75018 Paris
From 28 March to 28 July 2019, the Institut des Cultures d'Islam (ICI) in Paris presents "C'est Beyrouth", an exhibition curated by Sabyl Ghoussoub.  
The artwork of 16 photographic and video artists capture the place of the individual, of religion and the community in Beirut, Lebanon, since the Israeli-Lebanese conflict until 2006.
The spectre of war
The starting point of the exhibition is the video "On War and Love" by Fouad Elkoury, in which the war continues to haunt the Beiruiti spirit. This is something explored in the series "Abandon" where Cha Gonzalez follows the nocturnal excesses of youth in search of meaning.
Beirut also faces multiple political and migratory crises, consequences of other past and present conflicts, as Dalia Khamissy recalls in documenting the daily lives of Palestinian and Syrian refugees.
A multi-faith city   
Religion is omnipresent in the exhibition, as in this capital city itself where eighteen predominantly Muslim and Christian communities live side by side.
The body as a symbol of identity
The question of the body which can be marked, sculpted, covered, transformed, exulted or forgotten, is also a thread that runs through the exhibition. In the series, "Tatouages Chiites" (Shia Tattoos), Hassan Ammar depicts Hezbollah militiamen proclaiming their "religion" in their flesh. With Vianney Le Caer's sunbathers, the Beirut Corniche becomes a meeting point for around 30 men who can be found there each day, working out, tanning and praying.  
The ignored minorities
The exhibition's artists invite us to discover the lives of people often discriminated against in Lebanon, a society in constant mutation: Mohamad Abdouni captures the intimacy of a mother and her transgender son; Roy Dib raises the subject of taboo around homosexuality in his video "Mondial 2010". Myriam Boulos is interested in foreign domestic workers exploited by wealthy families. Finally, the duo Khalil Joreige & Joana Hadjithomas (Prix Marcel Duchamp 2017) gives voice to migrants coming from Africa or Asia with the video installation "Tout est vrai" to be found in the hammam of the ICI.
Far from a portrait gallery, the exhibition offers visitors a reason to discover Beirut from another perspective, in a decade that has known neither war or peace.
The religious pluralism of the city is evident in the public and intimate spheres, the processions carrying Christ on the cross captured by Patrick Baz, through to the iftars photographed by Natalie Naccache, to the video "A Night in Beirut" by Sirine Fattouh on "El Tabbal", which awakens the inhabitants before dawn during the Ramadan.
About
"C'EST BEYROUTH"
28 March - 28 July 2019 
Opening - 27 March 2019 
ICI Goutte d'Or: 56, rue Stephenson – 75018 Paris
ICI Léon: 19, rue Léon – 75018 Paris