News
Galerie Eva Hober NOW REPRESENTS DANCER, OLIVIER DUBOIS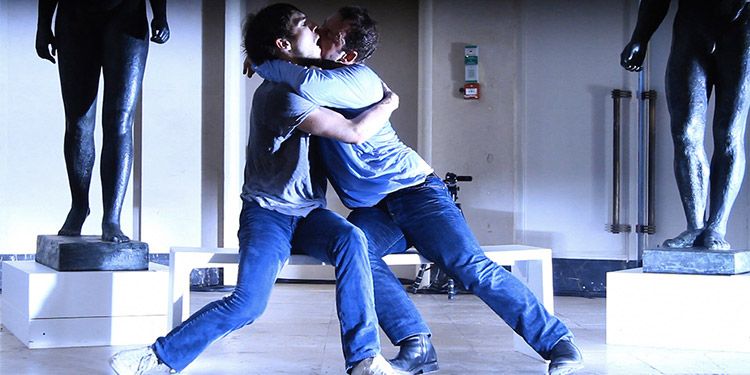 Galerie Eva Hober is pleased to announce that it is now representing Olivier Dubois, the well-known dancer and choreographer, whose career has presented him with many opportunities in venues all over the world.
Known to some as the "enfant terrible of contemporary dance", Olivier Dubois is an exceptional and passionate dancer, who was voted one of the world's top twenty-five dancers in 2011 by Dance Europe magazine.
Olivier Dubois invites the public to share with him a truly unique and mesmerizing experience that one could compare to as "visual poems". This is more than dance, the performer displays the body as if it has been metamorphosed,  a transformation that reveals a "poetic monster, the humanity that each of us embodies".
Each of his performances creates a sensation as he continues to present singular creations that give rise to such feelings of upheaval. Rather than being provocative, they convey the demanding nature of Olivier Dubois' strongly asserted and completely uncompromising message.
In 2008 at Festival d'Avignon, Olivier Dubois caused a stir with his unpredictable Faune(s), which swept aside the established practice of a dated form of dance by relying on his extraordinary physique. For him, the perfect body, the one that makes a performance sublime, is a body that has metamorphosed, another body, a body from elsewhere. "It is a sad thing indeed when a person dances with their own body", he declared. He confesses to never having danced with the image of his own body, which is so far removed from the virtuosity that possesses him when he is performing.
In 2012, he met with resounding success with Tragédie, a hypnotic, trance-like choreography of naked bodies that was also presented at Festival d'Avignon. "Being human is not a guarantee of humanity and this is the tragedy of humankind" - such was the initial reflection that guided Oliver Dubois in the creation of this choreographic poem written like an alexandrine.
During 'Nuit Blanche' in 2017, he reinforced his reputation with a precise and frenetic choreography for 300 amateur dancers and a vision of the dance company as a magnificent mass effect, but in which it was still possible to see the movements of each individual dancer. The choreography was profoundly moving – groups of dancers moved like human waves, like a poetic seism and their energy and passion could not be ignored.
Olivier Dubois was once told, in 1995: "You will never dance because there is nothing of a dancer about you". Since then, he has tirelessly given the lie to this affirmation thanks to long string of successful breaks that started in 2006. For the first time ever, Galerie Eva Hober has chosen to represent a dancer and will be presenting a sensational piece by Olivier Dubois in its premises in Paris' 8th arrondissement in spring 2019… a performance that promises to be as passionate as it is sensual.