News
At Galerie Eva Hober, the "histoires courtes" of Audrey Nervi in 28 Paintings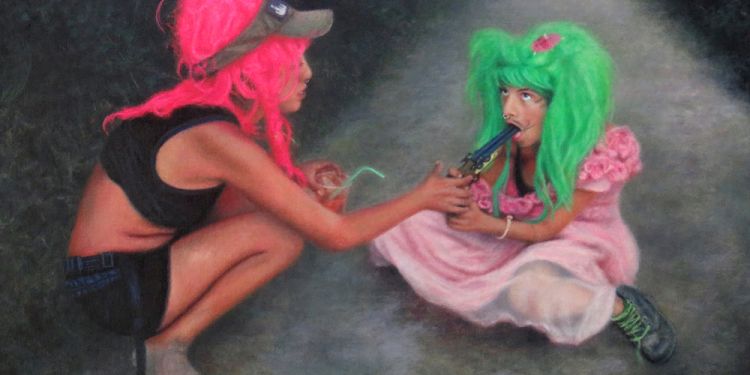 About
Audrey Nervi
"Histoires Courtes Dyptiques"
From 20 June to 27 July  2018
Opening
Wednesday 20 June 2018
From 7pm to 9pm
GALERIE EVA HOBER 
156 Boulevard Haussmann 75008 Paris
http://www.evahober.com/
 From 20 June to 27 July, Galerie Eva Hober exhibits new artworks by Audrey Nervi in its gallery in the 8th arrondissement of Paris at 156 boulevard Haussmann. 
Audrey Nervi paints "counter-cultures", such as those associated with free parties, raves, the techno music scene and travellers. 
Her work has become like a logbook, where the artist retains her memories of these festive gatherings, real partying temples of the wide outdoors.
Audrey Nervi takes thousands of photographs on her travels. Colleted, annoted, selected, these photos are the starting point of her pictorial work and when these nights of trances come to an end, Audrey goes back to Berlin, to her immaculate studio to paint her memories. 
Landscapes of the world, portraits of portraits of friends in masks, costumes, bodies strandies in the frame, kids playing grown-ups, grown-ups playing at being kids… les "histoires courtes" (Short stories) by Audrey Nervi opens up a world where everything goes, physically, socially. From an intimate gesture to a political gesture, her works are engaged, engaging, because we are immersed in a collective, excessive, ecstatic world of unheard of freedom. The exhibition is open to discover until 27 July 2018. 
About
Audrey Nervi
"Histoires Courtes Dyptiques"
From 20 June to 27 July  2018
Opening
Wednesday 20 June 2018
From 7pm to 9pm
GALERIE EVA HOBER 
156 Boulevard Haussmann 75008 Paris
http://www.evahober.com/