News
Galerie Derouillon presents "Jardins", an exhibition by Alexandre Benjamin Navet, from June 24 to July 30, 2022, at 13 rue de Turbigo, Paris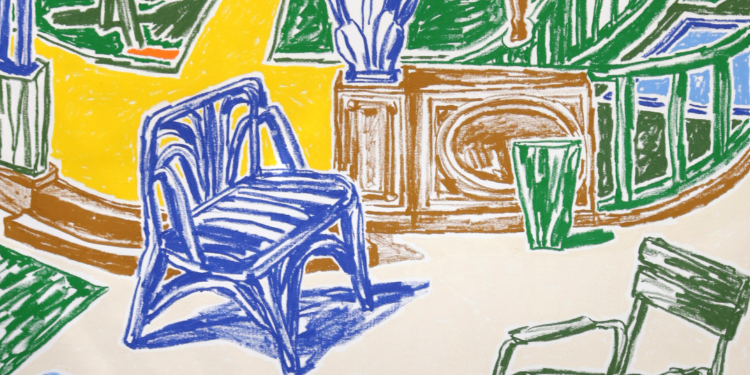 About
Exhibition : 
From June 24th to July 30th 2022
Press vernissage : 
June 23rd 2022
from 3.00 to 5.00 pm
Galerie Derouillon : 
13 rue de Turbigo
75002, Paris
+33 (0)9 74 97 46 97
Press Contact : 
Anna Ceravolo
+33 (0)7 81 31 83 10
Galerie Derouillon is delighted to present a new solo exhibition by Alexandre Benjamin Navet entitled "Jardins", from June 24 to July 30, 2022. The artist will be exhibited in the space of Étienne Marcel, at 13 rue de Turbigo, in the 2nd district of Paris. 
Graduated in 2011 from ENSCI-Les Ateliers, École nationale supérieure de création industrielle (Paris), Alexandre Benjamin Navet is one of the most promising French artists of his generation. A brilliant draughtsman whose powerful strokes in vivid colours build enchanted worlds, he works in the great tradition of the decorative arts in a resolutely contemporary spirit. 
Achievements: 
Specific site projects for Le Voyage à Nantes, Nantes (2022)
Fifth Avenue Blooms for Van Cleef & Arpels, New York (2022) 
Van Cleef & Arpels (2020) 
Artwork on the façade of the Hôtel des Arts, Toulon Design Parade Festival, Toulon (2020) 
Hermès boutique opening on the Avenue George V, Paris (2018) 
Exhibitions:
"Gardens and Landscapes - Carte blanche to Alexandre Benjamin Navet" (solo), 12 Star Gallery, European Parliament, London (2022)
"An uncertain spring", Musée des Arts Décoratifs, Paris (2021) 
"July" (solo), Galerie Derouillon (2020)
"Manière Matière" at the Grand Palais, Paris (2019)
"Espèces d'espaces" (solo), Musée des Arts Décoratifs, Paris (2019)
GALERIE DEROUILLON,
Galerie Derouillon was founded in 2013 in Paris and is dedicated to discovering and supporting emerging contemporary artists, ensuring their first solo exhibitions and providing them with a long-term support in every stage of production, exhibiton and dissemination of their practice. 
Particularly committed to the international development of its artists, the gallery now shares representation of Diane Dal-Pra with Massimo De Carlo in Milan, London and Hong Kong, Alex Foxton with Various Small Fires in Los Angeles, Dallas and Seoul, Anastasia Bay with Sorry We're Closed in Brussels and Vojtěch Kovařík with Mendes Wood DM in New York, São Paulo and Brussels. 
Galerie Derouillon's programme focuses on solo exhibitions of young international artists as well as group exhibitions that create a dialogue between young contemporary creation and major figures in art history.
Galerie Derouillon,
13, rue Turbigo, 75002 Paris
Metro Etienne Marcel (line 4)
Current: 
Exhibition "The Awaken of the Cariatids" by Anastasia Bay
Project Space Derouillon,
38, rue Notre-Dame-de-Nazareth, 75003 Paris
Metro République (lines 3, 5, 8, 9, 11)
Current: 
Closed to the public - opening soon
Curation of the Nelly Rodi space
Hôtel Cromot du Bourg
9, rue Cadet, 75009 Paris
Metro Cadet (line 7) 
Current: 
Exhibition "Pirates" by Fabien Boitard
by appointment only
About
Exhibition : 
From June 24th to July 30th 2022
Press vernissage : 
June 23rd 2022
from 3.00 to 5.00 pm
Galerie Derouillon : 
13 rue de Turbigo
75002, Paris
+33 (0)9 74 97 46 97
Press Contact : 
Anna Ceravolo
+33 (0)7 81 31 83 10