News
"LOVE ME TENDER", SHUO HAO'S FIRST SOLO SHOW AT Galerie Derouillon, PARIS, UNTIL MAY 27, 2023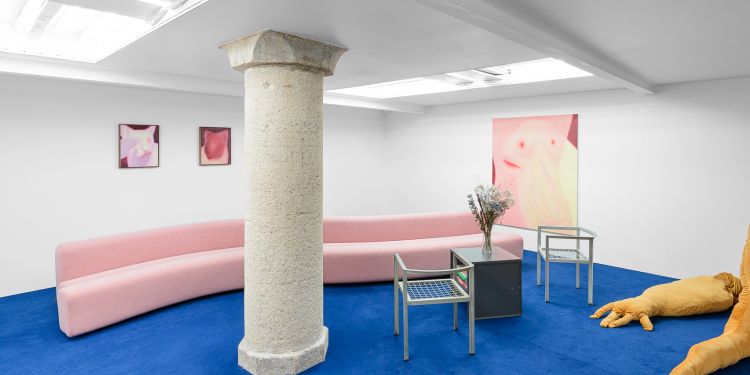 About
Exposition : 
Du 13 avril au 27 mai 2023 
Galerie Derouillon : 
13, rue Turbigo 75002 Paris Métro Étienne Marcel
Contact press : 
Anna Ceravolo
aceravolo@communicart.fr
+33 7 81 31 83 10
Derouillon Gallery is pleased to present "Love Me Tender," a solo exhibition by artist Shuo Hao, from April 13 to May 27, 2023.
A woman accused of infidelitý by her jealous husband is led before a lion, embodying the Mouth of Truth, to be interrogated in the presence of witnesses. Having disguised her lover as a madman and allowed herself to be touched by him in front of the whole assembly, she swears without lying that no one, except her husband and this madman, has ever touched her. Thus she withdraws her hand from the mouth of the lion, safe and sound.
Shuo Hao offers in "Love Me Tender" a more ambiguous̈ and complex version of the Mouth of Truth́. To the Western dualism that opposes and hierarchizes, she prefers to think of two complementary parts of a whole, a yin and yang between the fawn and the human. We no longer seek to know who is lying, who to punish, but we speak from the wound and explore the ambiguities inherent in this love story. Shuo Hao takes us into a fierce embrace where we no longer discern the bodies, only the forces of the relationship, making the title of the exhibition sound ironic. 
Where does care meet violence? For Shuo Hao, violence and tenderness are two sides of the same coin. The dashes of red in his paintings point to the constant threat of suffering in these loving relationships. The open mouths surrounded by red encircle faces that seem to cuddle up to them, the border of blood disappears in a hot breath.
Among the red lacerations, a scarlet hand emerges and becomes a haunting presence. The faulty hand submitted to the lion's mouth would give way to that of the painter, assertive and central. Shuo Hao's touch is also more visible and instinctive in this series, wanting to paint like a lion devours its prey.
If the represented bodies are disturbed or even dis-parent, it is to leave us in direct presence of the incarnated gesture because "the painter brings his own body". (Paul Valéry) 
Marion Coindeau
Director of the Derouillon gallery
Shuo Hao Chinese artist graduated from the Central Academy of Fine Arts, Beijing (2014)
Shuo Hao's works feature bodies in metamorphosis, human and non-human, caught in tumultuous relationships. Between Western and Eastern culture, she confronts the different meanings of symbols, associating in the same gesture Michelangelo's bas-reliefs and Asian objects carved in jade stone, Christian martyrs and figures from Greek mythology.
The soft colors of the different media (vaporous pastels, oil on wood or canvas) accentuate the contrast with the strangeness of the scenes representing animals entangled in each other, or the violence inflicted on the bodies of the coldly represented women.
Shuo Hao's painting is fully embodied and nourished by this double influence, taking a step away from the traditional representations of myths in Western iconography.
Shuo Hao (born in 1991, China) lives and works in Paris. A graduate of the Central Academy of Fine Arts in Beijing (2014), she passed through the Sorbonne before joining the illustration workshop of the Haute École des Arts du Rhin in Strasbourg, (graduated in 2020).
Recent exhibitions: 
"Les Anneaux de Saturne", Galerie Derouillon, Paris (2023);
"L'Huile sur le Feu", Le Consulat Voltaire, Paris (2022);
72nd Festival Jeune Création, Fondation Fiminco, Romainville (2022);
"Sang chaud, sang froid" (solo), Galerie Derouillon, Paris (2022) ;
"Ce vice impuni, la lecture", La Chaufferie (HEAR), Strasbourg (2018);
"China Meets Norway in a Bookshelf", Beijing (2017).
Public collection: X Museum, Beijing (CN).
GALERIE DEROUILLON,
Galerie Derouillon was founded in 2013 in Paris and is dedicated to the discovery and promotion of emerging contemporary artists, ensuring their first solo exhibitions as well as long-term support. Particularly committed to the international development of its artists, the gallery now shares representation of Diane Dal-Pra with Massimo De Carlo in Milan, London and Hong Kong, Alex Foxton with Various Small Fires in Los Angeles, Dallas and Seoul, Anastasia Bay with Sorry We're Closed in Brussels and Vojtěch Kovařík with Mendes Wood DM in New York, São Paulo and Brussels.
Galerie Derouillon's program emphasizes solo exhibitions of young international artists as well as group shows that create a dialogue between young contemporary creation and major figures in art history.
About
Exposition : 
Du 13 avril au 27 mai 2023 
Galerie Derouillon : 
13, rue Turbigo 75002 Paris Métro Étienne Marcel
Contact press : 
Anna Ceravolo
aceravolo@communicart.fr
+33 7 81 31 83 10