News
Explore the first digital catalogue raisonné anchored in the blockchain, created Arteïa for the artist Hélène Delprat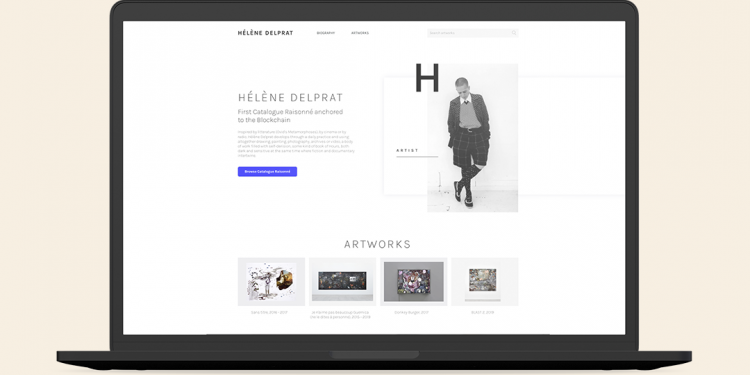 CONTACTS
& DOCUMENTATION
Lindsey Williams
lwilliams@communicart.fr

+33 07 69 98 73 96

At a time when the digitalisation of the art world is exploding with the impact of the global pandemic and online transactions, an irrefutable certification of the existence of an artwork and its data is becoming an absolute necessity. 
The digital catalogue raisonné anchored in the blockchain conceived by Arteïa is part of this revolution. 
Inspired by literature (Ovid's metamorphoses), the cinema and the radio, artist Hélène Delprat develops through daily practice and by using simultaneously drawing, painting, photography, archives and video, a work full of self-derision. 
How does blockchain technology guarantee the authenticity of the data in Arteia's digital catalogue raisonné?
Thanks to Blockchain technology, each piece of data contained in the digital catalogue raisonné is traceable and guaranteed unfalsifiable

Only the publisher - the artist or the rightful owner - is permittedt o feed and enrich the digital catalogue raisonné. Access with login, password and 2FA (double authentication).

Any modification or additional information made by the artist or the rightful owner is recorded and visible by all, allowing a total transparency on the traceability of a work

The digital catalogue raisonné allows you to generate PDF registration certificates with inventory numbers for each work. Each certificate is provided with a QRcode which, once scanned, allows users to find the work's file with all its authenticated information on the digital catalogue raisonné online.
Created by art collectors for art collectors, Arteïa is a creative and visionary company, bringing digital solutions to art world professionals: collectors, art dealers, artists, galleries, fairs...
Click on the link below to access the catalogue raisonné: