News
Carpenters Workshop Gallery WINS ''BEST STAND'' AT PAD LONDON 2018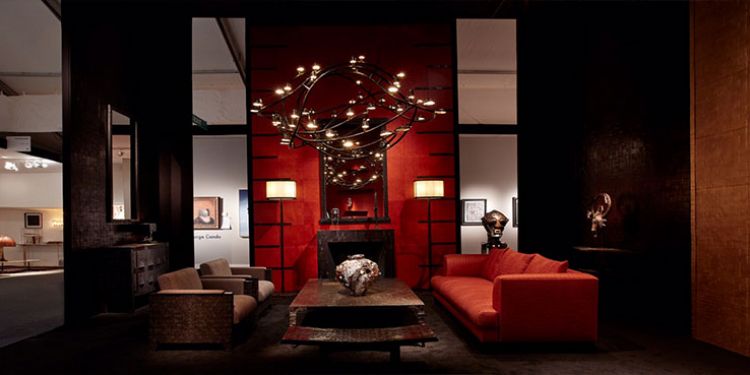 About
PAD LONDON 2018
Berkeley Square, London, W1
1-7 October 2018
london/pad_prize/awards/
On 1 October, the jury of PAD London chose Carpenters Workshop Gallery's stand as the best at the fair.
The gallery was honoured to receive the award for its stand designed by artist Ingrid Donat. Carpenters Workshop Gallery gave the artist "Carte Blanche" of its booth, which she completely transformed into her vision of the home of a tribal art collector, creating an immersive floor-to-ceiling ambience, including a dining room and a lounge.
The stand features new functional sculptures by the artist, that were being revealed for the first time. Ingrid Donat had also chosen works that she admires from other artists and designers who are represented by Carpenters Workshop Gallery such as Atelier Van Lieshout, Nacho Carbonell, Wendell Castle and Frederik Molenschot.
The jury of 24 judges, who made the decision at the fair in Berkeley Square, Mayfair included respected design journalists, museum directors, interior designers, architects and other experts in the field.
Born in Sweden and trained at the Beaux-Arts Paris, where she still lives, Ingrid Donat was first encouraged to produce furniture in the 1980's by Diego Giacometti. Today, she stands as one of the most influential living artists in the Decorative Arts, already reaching record prices at auction. Her bronze functional sculptures exist as a symbiosis between the sophistication of Art Deco against the force of Tribal Art. Her work can be seen in the offices of Chanel, Dior, the newly refurbished Hotel Crillon and in many important private collections.
PAD presents a global roster of leading fairs juxtaposing contemporary, modern and historic design, modern and tribal art, antiquities and jewellery in Paris, London, Geneva and Monaco. Patrick Perrin founded PAD Paris in 1997 and PAD London in 2007.
About
PAD LONDON 2018
Berkeley Square, London, W1
1-7 October 2018
london/pad_prize/awards/