News
Carpenters Workshop Gallery PARTICIPATES IN THE 16TH EDITION OF DESIGN MIAMI/BASEL, FROM JUNE 14 TO 19, 2022, STAND G11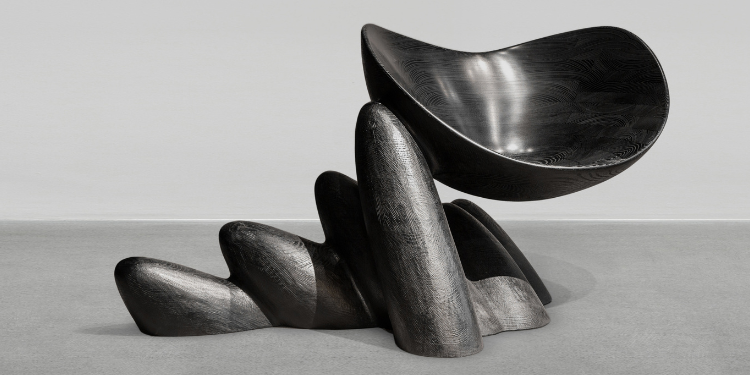 Carpenters Workshop Gallery returns to Art Basel 2022, presenting key works by some of the gallery's longest-standing artists, including Roger Herman, Wendell Castle, Ingrid Donat and Atelier van Lieshout.
Maarten Baas leads the exhibition with two new editions of his Bronze chairs, displayed alongside one of the largest iterations of his Real Time clocks. Real Time XL The Artist features Baas himself as the protagonist of the time-keeping performance, and was exhibited as part of the show DYSFUNCTIONAL at the 2019 Venice Biennale. 
Beirut based duo david/nicolas reveal a new CO80 table in a Persian red travertino marble. In their Constellation series, david/nicolas draw inspiration from the stars, space travel, and the mysteries of the universe. The CO80 table characterises the duo's retro-futurist aesthetic, with its layered marble veins resembling the surface of an alien planet.
Other highlights include a new unique console from Vincenzo de Cotiis' latest collection Interlude, as well as Andrea Branzi's monochrome, minimalist cabinet, Stone 2A. Two large light sculptures from Nacho Carbonell and Stuart Haygarth are also exhibited, filling their environments with light and colour.
ATELIER VAN LIESHOUT
MAARTEN BAAS
NACHO CARBONELL
WENDELL CASTLE
DAVID & NICOLAS
VINCENZO DE COTIIS
INGRID DONAT
DRIFT
NAJLA EL ZEN
STUART HAYGARTH
ROGER HERMAN
JOSÉ LÉVY LÉVY
GIACOMO RAVAGLI
TOBIA & AFRA SCARPA
LIONEL SCOCCIMARO
CHARLES TREVELYAN
VERHOEVEN TWINS
ABOUT CARPENTERS WORKSHOP GALLERY
From functional art to collectible design items, Carpenters Workshop Gallery now produces and exhibits functional sculptures created by emerging and established international designers and artists who push the boundaries of their traditional creative worlds.
The gallery takes an active interest in the research and production of limited edition works. Its choices are guided by the quest for emotional, artistic and historical relevance - a relevance that must be self-evident.
In 2015, the gallery opened The Workshop in Roissy, a unique 8,000 square metre workshop dedicated to artistic research. It brings together a team of ultra-skilled artisans in homage to the French heritage of the "Decorative Arts".
The gallery is based on a partnership between two childhood friends, Julien Lombrail and Loïc Le Gaillard. They opened their first space in 2006 in a former carpenter's workshop in London's Chelsea district. They now operate four galleries around the world, in London, Paris, New York and more recently San Francisco. Carpenters Workshop Gallery has become the reference in the field.
In addition, it dominates the global contemporary collectible design sector.