News
YELLOWKORNER EXHIBITS "I'M NOT A TROPHY", BY ARNO ELIAS, WITH CARA DELEVINGNE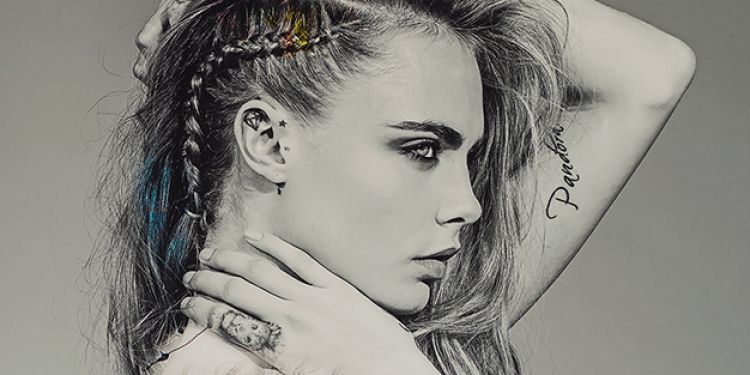 About
Exhibition "I'm not a trophy"
Discover the work in the YellowKorner galleries
and on the website
www.yellowkorner.com
From 8 February to 4 April 2018
YellowKorner, publisher of fine art photography with 80 galleries all over the world, is to exhibit a collection of photographs by Arno Elias. Entitled 'I'm not a trophy', the exhibition will run from February 8th to April 4th, 2018 in YellowKorner's galleries.
The exhibition is comprised of ten photographs, including two works featuring model and actress Cara Delevingne with tattoo-like images of endangered wild animals superimposed upon her skin. 
These designs were created using the rear projection technique, imbuing the pictures with tremendous visual power.
In response to Cara's enthusiasm and passionate support for the work of the "I'm not a trophy" non-profit body, Arno Elias has created these superb portraits of the model, the perfect ambassador to front this campaign to alert the wider public to the accelerating decline of some of our most iconic endangered species.
The other works in the collection portray elephants, rhinoceroses and lions in all their glory – a fusion of photography and vivid splashes of paint – a vibrant tribute to African culture. 
Through this exhibition, YellowKorner cements its status as a cultural player committed to social and political activism through the medium of fine art photography. The royalties from the sale of photographs of Cara Delevingne, which are available as numbered, limited edition prints, will go towards the "I'm not a trophy" non-profit organization. The campaign has its own dedicated website at www.imnotatrophy.org.
The "I'm not a trophy" not-for-profit
The project's key goal is to prick the public conscience and raise awareness of the danger of extinction faced by many species of animals, as well as combating the exploitation of wild animals, whatever form this may take.
Model and actress Cara Delevingne, one of the most influential presences on social media today, is the public face of this campaign.
About YellowKorner
YellowKorner supplies fine art photographs to some 80 galleries all over the world. It was founded in 2006 by two friends, Alexandre de Metz and Paul-Antoine Briat, who have both been fascinated by photography since they were children.
Out of this shared passion an idea and a vision were born: to bring fine art photography to the masses and turn YellowKorner into the first of fine art photography by offering numbered limited edition prints of outstanding quality at reasonable prices.
About
Exhibition "I'm not a trophy"
Discover the work in the YellowKorner galleries
and on the website
www.yellowkorner.com
From 8 February to 4 April 2018