News
REIFFERS ART INITIATIVES and LVMH Métiers d'Art present "SOUHKOS" by Raphaël Barontini from 7 to 28 July. 2021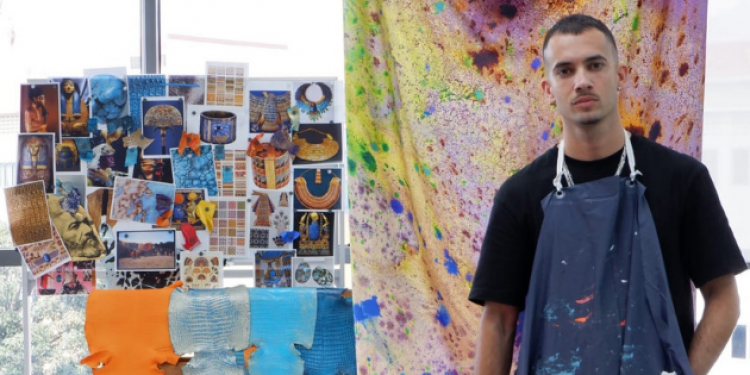 About
STUDIO DES ACACIAS BY MAZARINE 
30 Rue des Acacias,
75017 Paris
REIFFERS ART INITIATIVES 
PRESS CONTACT
Adèle Godet 
+33 (0)1 43 20 10 20
+33 (0)6 30 79 44 80 
CONTACTS
& DOCUMENTATION
Adèle Godet
agodet@communicart.fr
+33 (0)1 43 20 10 20
+33 (0)6 30 79 44 80

Reiffers Art Initiatives and LVMH Métiers d'Art have the pleasure of announcing SOUHKOS, the next solo exhibition of Raphael Barontini at the Studio des Acacias by Mazarine, Paris 17th arrondissement, from 7 to 28 July 2021
This exhibition, in partnership with LVMH Métiers d'Art, is part of the initiatives of the Reiffers Art Initiatives fellowship fund, launched in April 2021 to finance, exhibit and give visibility to emerging figures in contemporary art of tomorrow.
Raphaël Barontini is a 36-year-old visual artist who graduated from the Beaux-Arts in Paris and the Hunter College of Art in New York. His work of "creolization of images" has already been exhibited in many museums and galleries around the world, notably through remarkable performances in the United States in Savannah, Fort Worth or very recently Chicago.
In his protean work, the visual artist constantly questions the relationship between art and craft, East and West, and politics.
In 2020, he was selected by LVMH Métiers d'Art for an artist residency in the heart of the Heng Long tannery in Singapore, renowned for its exceptional expertise and know-how in tanning and finishing crocodilian leather.
The principle of the LVMH Métiers d'Art artistic residency, directed by Léa Chauvel-Lévy, is to use the raw materials and know-how of a leading manufacturer in its field as the source of a major artistic project. It is also about stimulating the spirit of creativity and innovation of the craftsmen by confronting them with the vision of an artist.
All of the works produced, as well as several representative pieces of the artist's work, are therefore exhibited at the Studio des Acacias by Mazarine, made available by Reiffers Art Initiatives as part of a skills-based sponsorship.
About
STUDIO DES ACACIAS BY MAZARINE 
30 Rue des Acacias,
75017 Paris
REIFFERS ART INITIATIVES 
PRESS CONTACT
Adèle Godet 
+33 (0)1 43 20 10 20
+33 (0)6 30 79 44 80