News
KENNY DUNKAN, 2021 REIFFERS ART INITIATIVES MENTORSHIP LAUREATE, PRESENTS "NO APOLOGIES". FROM OCT. 22 TO NOV. 20, 2021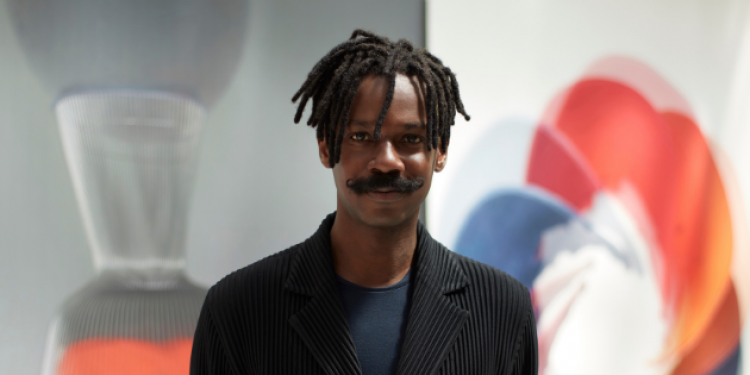 About
Studio des Acacias 
30 rue des Acacias,
75017 Paris 
Tel:+33 (0)1 58 05 49 83
studiodesacacias.com/fr/accueil
PRESS CONTACT 
Adèle Godet
+ 33 (0) 6 30 79 44 80
Reiffers Art Initiatives, a fellowship fund for emerging contemporary creation and cultural diversity, is pleased to announce the exhibition "NO APOLOGIES" by Kenny Dunkan at Studio des Acacias by Mazarine, from 22
October to 20 November, 2021.
Winner of the first Reiffers Art Initiatives mentorship, the French artist originally from Guadeloupe pursued a six-month in-depth dialogue with his mentor Rashid Johnson.
Nourished by his exchanges and advice from the famous African-American artist, Kenny Dunkan will present an exhibition during FIAC's opening in the form of an initiatory journey punctuated by three immersive and original monumental installations, as well as new sculptures, videos and photographs.
"NO APOLOGIES" deepens the artist's reflections on his Caribbean heritage. Each installation forms a micro-climate drawing about the cultural richness of Guadeloupe: from the aesthetic and symbolic power of carnival to mythologies and magical and religious beliefs.
Another way for Kenny Dunkan to discuss the post-colonial heritage of his island. The body, a recurring theme of the artist who does not hesitate to stage his own black body, is also at the heart of the devices: a fragmented body, multiple and becoming.
The title "NO APOLOGIES" ("pas d'excuses") refers for Kenny Dunkan to all the current violence done to bodies, whether black or gay... and the refusal to excuse them. "I have too often apologized to myself for being who I am," explains the artist. Because of my skin color, my sexuality... Today, I don't want to apologize anymore for being the person I am." - Kenny Dunkan.
Created in 2021 by Paul-Emmanuel Reiffers, Chairman and Founder of Mazarine, a communications group specializing in luxury, art and culture, Reiffers Art Initiatives is a fellowship fund for emerging contemporary creation and cultural diversity.
The fellowship fund's mission, whose international artistic committee is composed of renowned personalities from the world of art and culture, is to expose and give visibility to the emerging figures of tomorrow's contemporary art.
KENNY DUNKAN 
« NO APOLOGIES »
AT STUDIO DES ACACIAS 
FROM OCTOBER 22 TO NOVEMBER 20, 2021
About
Studio des Acacias 
30 rue des Acacias,
75017 Paris 
Tel:+33 (0)1 58 05 49 83
studiodesacacias.com/fr/accueil
PRESS CONTACT 
Adèle Godet
+ 33 (0) 6 30 79 44 80