News
"INFILTRÉES- 5 WAYS OF INHABITING THE WORLD", NEW GROUP SHOW OF THE REIFFERS ART INITIATIVES PRIZE FROM MAY 12 TO JUNE 17, 2023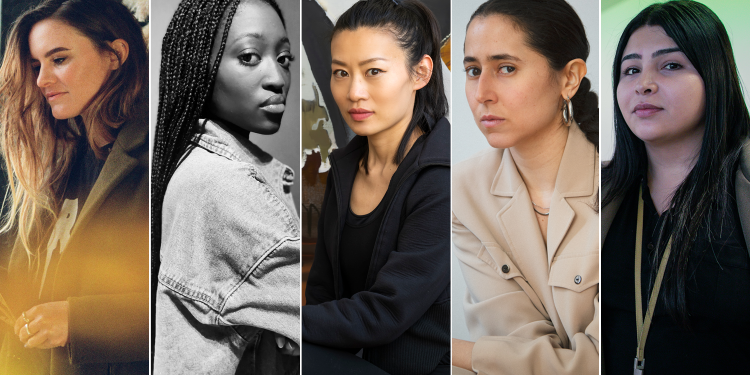 About
Exhibition :
Group exhibition from 12 May to 10 June 2023 at the Acacias Art Center
Acacias Art Center :
30 rue des Acacias – 75017 Paris
Press contact :
Adèle Godet
agodet@communicart.fr
+ 33 (0) 6 30 79 44 80
On the occasion of the second edition of its annual award, Reiffers Art Initiatives is pleased to announce the exhibition "Infiltrées - 5 manières d'habiter le monde" [Infiltrées – 5 ways of living in the world], from May 12 to June 17, 2023, at the Acacias Art Center. This group show, curated by Ludovic Delalande, a member of the Reiffers Art Initiatives committee, unites 5 female artists from four continents (Africa, America, Asia, and Europe):
MERIEM BENNANI
HAN BING
BIANCA BONDI
BINTA DIAW
SER SERPAS
The exhibition aligns with the second edition of the Reiffers Art Initiatives Prize, awarded to an emerging talent from the current art scene. The winning artist chosen by the committee will be revealed on Wednesday, June 7. In addition to a €10,000 cash award, she will be awarded a museum commission for the fund's art collection. A catalogue of the exhibition will also be published.
After they were selected by a committee of international cultural figures, these five artists, were invited to occupy the Acacia Art Center with a collective exhibit of mostly new and in situ works that are representative of their work. Like an ever-moving fluid, their works will occupy the Center's walls, floors, and volumes, infiltrating the space with the artists' singular relationships with the world. The works have in common close-up confrontations with today's world, as if through capillarity, immersing themselves in global socio-economic, historical, post-colonial, and aesthetic dimensions in order to better reveal, deconstruct, and finally metamorphose them through their art. These are artists who do not settle for merely grappling with the world, but who also struggle to aesthetically and conceptually reconfigure it as a way of providing other imaginary possibilities and new ways of making the world, together.
Ser Serpas and Han Bing explore the meanders of the city, seeking the visual objects and elements that will become the raw material of their pieces. Through sculptures and installations for Ser Serpas, paintings in the case of Han Bing, these works form abstract poems that narrate our relationships to the environment and our capacity to make it our own, to reassemble but also to sublimate it.
Binta Diaw and Bianca Bondi's immersive installations strive to contaminate space in order to generate a new imaginary universe that possesses a novel relationship to the world and to nature. Binta Diaw invites us to reflect on questions of identity, feminism, migration, and belonging, while Bianca Bondi offers viewers new fictional islands, nourished by dreams, beliefs, and vernacular rituals. Past, present, and future intertwine to imagine, once again, a different way of living in the world.
The works by these four guest artists - Han Bing, Bianca Bondi, Binta Diaw, and Ser Serpas - nominees for the Prize, will engage in a dialogue with the video "2 Lizards" by a fifth artist, Meriem Bennani. Her video invites us on a stroll through a contemporary city, where two lizards discuss the most urgent subjects (pandemic, political crisis...) with fantasy and humor. This cathartic exercise explores daily life as shared by millions of people.
The members of the artistic committee - Reiffers Art Initiatives Prize 2023:
• Caroline Bourgeois Exhibition curator for the Pinault Collection • Diana Campbell Betancourt Artistic Director of the Samdani Art Foundation and Chief Curator of the Dhaka Art Summit • Ludovic Delalande Exhibition curator for the Louis Vuitton Foundation • Matthieu Humery Curator for the Pinault Collection & Director of the living archives program for the LUMA Foundation in Arles.
• Emma Lavigne General Director of the Pinault Collection
• Cathia Lawson-Hall Co-founder of the "Africa" acquisition committee for the Pompidou Center
• Benjamin Millepied Founder of the L.A. Dance Project
• Simon Njami Writer, exhibition curator, art critic, and co-founder of the "Revue Noire" magazine
• Thomas Shao President-Founder of MetaMedia and founder of the Shao Foundation
• Eve Therond Art consultant, author, co-founder and former editor-in-chief of Whitewall magazine
• Elisabeth von Thurn und Taxis Author, contributor, and editor
• Thibaut Wychowanok Editor-in-chief of Numéro art magazine
• Marie-Cécile Zinsou Founder of the Zinsou Foundation, Chairman of the Board of Directors of the Villa Medici in Rome.
In partnership with Mazarine Group
Scenography by La Mode en Images
ABOUT ART INITIATIVES
Created in 2021 by Paul-Emmanuel Reiffers, President-Founder of Mazarine, a communication group specializing in luxury, art, and culture, Reiffers Art Initiatives is an endowment fund for young contemporary creation and cultural diversity. The mission of the endowment fund, whose international artistic committee is composed of recognized personalities from the art and culture worlds, is to exhibit and offer visibility to the emerging figures of tomorrow's contemporary art. Reiffers Art Initiatives thus undertakes several projects each year: a mentoring exhibition between a young talent and an internationally renowned artist at the Acacias Art Center during Paris + by Art Basel, a group show exhibition in the spring, and international exhibitions to give a global dimension and dialogue with other cultures the work of artists.
About
Exhibition :
Group exhibition from 12 May to 10 June 2023 at the Acacias Art Center
Acacias Art Center :
30 rue des Acacias – 75017 Paris
Press contact :
Adèle Godet
agodet@communicart.fr
+ 33 (0) 6 30 79 44 80