News
Moinard Bétaille, The interior design studio, renovates the hotel cala di volpe, iconic masterpiece of Jacques Couëlle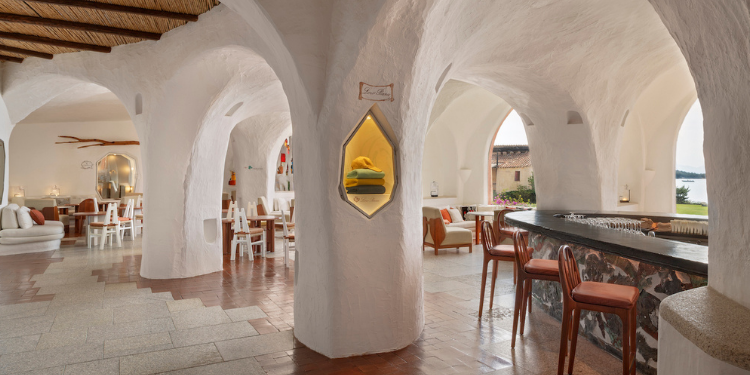 About
HOTEL CALA DI VOLPE
Costa Smeralda, 
Porto Cervo, Italy, 07020 
T +39 0789 976111
MOINARD BĒTAILLE AGENCY
41, avenue Montaigne  
75008 Paris, France  
T +33 (0)1 56 88 21 00  
F +33 (0)1 56 88 21 01 
PRESS CONTACT
Adèle Godet  
T +33 (0)1 43 20 10 20  
M +33 (0)6 30 79 44 80  
The interior design agency Moinard Bétaille signs a sensitive and poetic renovation of the iconic hotel Cala di Volpe (Sardinia), brilliantly reviving the monumental work of the French architect.
Bruno Moinard and Claire Bétaille, experienced in the art of the revival of prestigious hotels (Plaza Athénée in Paris, Four Seasons Trinity Square in London, Eden in Rome), have cast their singular gaze on this "habitable work of art" that needed to be rethought and relit, while respecting the original creative action of Couëlle.
After 4 years of work, the mythical Cala di Volpe hotel, on the Costa Smeralda, in Sardinia, welcomes its visitors with more brilliance than ever. A hotspot of the 60s and 70s, adored by Prince Karim Aga Khan, it was a mythical meeting place for the jet-set. James Bond even stopped there in "The Spy Who Loved Me". It is the symbol of the creative genius of Jacques Couëlle, the great architect who invented the "sculpture-houses", which appear raw and buried in their environment but are extremely refined in form. Intimately associating nature and simple luxury, it perfectly corresponds to our time and its aspirations.
Moinard and Bétaille wanted to keep the soul of the place intact, and loved adapting to the empire of materials reigning supreme here: the powerfully sculpted plaster which reserves havens of freshness, the barely civilized wood which punctuates the structures and visual effect, the thick glass in color compositions that filters the unique light of the bay, the warm silky terracotta underfoot, the skillfully reinvented fabrics. The furniture, for the most part, was custom-designed and often mobilized local know-how.
From the lobby to the rooms and suites, from the terraces overlooking the sea to the two restaurants ("Le Grand" and the "Beefbar"), Moinard and Bétaille have restored the luster to the most flamboyant hotel in Sardinia. Revived by the "traveling architects", the Cala di Volpe experience, simple and refined, is more than ever to be discovered and retold.
About
HOTEL CALA DI VOLPE
Costa Smeralda, 
Porto Cervo, Italy, 07020 
T +39 0789 976111
MOINARD BĒTAILLE AGENCY
41, avenue Montaigne  
75008 Paris, France  
T +33 (0)1 56 88 21 00  
F +33 (0)1 56 88 21 01 
PRESS CONTACT
Adèle Godet  
T +33 (0)1 43 20 10 20  
M +33 (0)6 30 79 44 80