News
In Geneva, the interior design agency Moinard Bétaille SIGNS A SPECTACULAR RENOVATION FOR CARTIER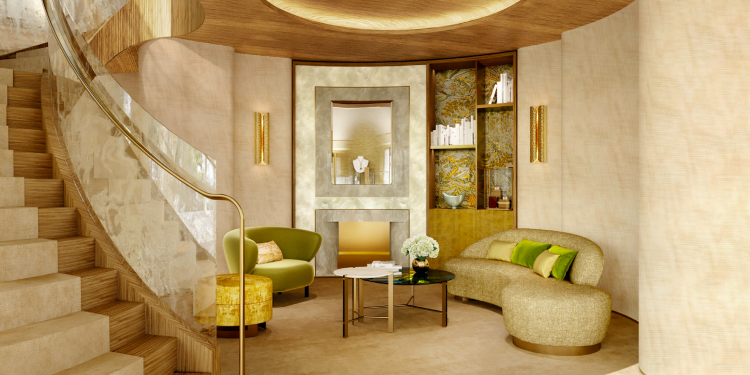 About
41 avenue Montaigne
75008 Paris, France
PRESS CONTACT 
Adèle Godet
+ 33 (0) 6 30 79 44 80
Since 1969, the Cartier boutique situated on 35, rue du Rhône in Geneva has embodied everything that unites the great House with this very special city.
It is the symbol of the historical expertise of Geneva's fine jewelry industry, hosting the Cartier Tradition restoration workshops as well as the assembly workshops for the brand's watches bearing the highly selective Poinçon de Genève.
The complete renovation of this true institution, which has just been carried out by the Moinard Bétaille interieur design agency, was a considerable challenge.
The agency was therefore keen to express this jewelry identity through a refined and exclusive decor that reflects the codes of the House, the great watchmaking tradition and the atmosphere of the city.
Cartier's obsession is to make each of its addresses a unique meeting place for the brand's identity, culture and local style.
For Moinard Bétaille, globe-trotting architects who immerse themselves in places wherever they set down their suitcases and pick up their pencils, this is anything but a constraint.
An ode to Geneva by Cartier
Located at the southern tip of Lake Geneva, the boutique is set at the foot of a magnificent, listed building from the 60s. On the façade, the numerous sets of screens create a subtle link between the street and the boutique.
As in every Moinard Bétaille projects, this entirely redesigned space gives pride of place to craftsmanship: light and shadow, materials and colors are skillfully balanced to form a veritable jewel box.
The omnipresent pale gold reinforces the preciousness and singularity of this place.
On board the Elma
A change of atmosphere with the VIP lounge on the first floor: we go sailing on Lake Geneva, as if on board the Elma, the yacht commissioned in 1953 by Louis Cartier.
Shapes, colors and materials are borrowed from the nautical vocabulary: varnished wood and braided ropes. The carpet evokes the hues, sparkles and reflections of Lake Geneva.
This lounge-cabin, identifiable from outside of the boutique, is a true invitation to travel and discovery.
An ascent to beautiful emotions
The new curves of the boutique naturally lead the visitor to the sculptural staircase, which houses a small intimate lounge with a reassuring fireplace.
A spectacular "ice corridor " escapes in a fairy tale, evoking the icy breezes of the lake.
Cartier's universe is sublimated by its encounter with the Swiss city. The Geneva inspiration mixed with the soul of the brand brings strength to the place and makes it unique.
This immersion in the colors of Geneva and Cartier's brilliance gives even more authenticity to the bond between the brand and its fans.
 MOINARD BÉTAILLE 
CARTIER GENÈVE 
About
41 avenue Montaigne
75008 Paris, France
PRESS CONTACT 
Adèle Godet
+ 33 (0) 6 30 79 44 80