News
LouiSimone Guirandou Gallery, ABIDJAN, presents "Découvertes", a group exhibition from 8 July to 28 August 2021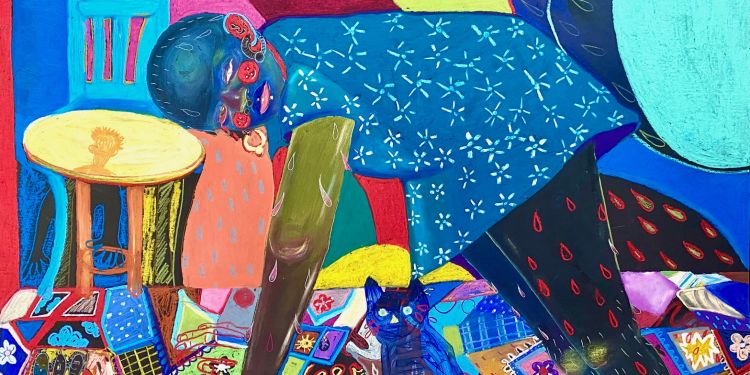 About
LouiSimone Guirandou Gallery
Tuesday to Saturday
10:30am to 6:30pm
and by appointment
Avenue Jean Mermoz / Rue C27
(close to the Goethe Institut) Cocody Mermoz,
Abidjan, Côte d'Ivoire
gallery
+ 225 22 54 04 61
PRESS CONTACT
Adèle Godet
+ 33 6 30 79 44 80
LouiSimone Guirandou Gallery is pleased to present the third edition of its summer exhibition, a group show entitled "Découvertes".. Presented from 8 July to 28 August, 2021, this exhibition brings together artists Bara Sketchbook, Cédric Tchinan, Femi Johnson, Franck Ezan, Nampemanla, Obodjé, and Z The Rat.
***
In 1991 Simone Guirandou-N'Diaye, Art Historian, founded the gallery Arts Pluriels. One of the very first galleries of Tribal and Contemporary Art in Côte d'Ivoire, which has asserted itself through its diversity of national and international artists, the quality of its creations and the accumulated experience and the passion that Simone Guirandou-N'Diaye knows so well how to communicate and transmit, becoming over the years, an unmissable cultural appointment in Abidjan.
It is in keeping with the continuity that Simone Guirandou-NDiaye and her daughter Gazelle Guirandou inaugurated, on December 10, 2015, the LouiSimone Guirandou Gallery. A name to materialize a hyphen between two stories, two courses, two lives, two first names. Louis, that of her late husband, who was the first to encourage and support her in her project, and Simone, hers, united through the ''S''.
A beautiful tribute to symbolize this modern space, adjacent to the villa LouiSimone Guirandou, which now covers the pool and part of the garden. This place is an invitation to a new generation of collectors.
Every exhibition is a stimulating and rewarding experience, driven by the excitement of risk-taking and artistic choices. For LouiSimone Guirandou Gallery, it is a rare opportunity to interact with a new artistic expression, to meet new sensibilities, but also to benefit from the eyes and different perspectives of a cosmopolitan public.
Through an avant-garde and eclectic program of works by Ivorian and International artists, Emerging or Confirmed, LouiSimone Guirandou Gallery continues to impose itself as an essential reference of the Ivorian and African cultural landscape.
About
LouiSimone Guirandou Gallery
Tuesday to Saturday
10:30am to 6:30pm
and by appointment
Avenue Jean Mermoz / Rue C27
(close to the Goethe Institut) Cocody Mermoz,
Abidjan, Côte d'Ivoire
gallery
+ 225 22 54 04 61
PRESS CONTACT
Adèle Godet
+ 33 6 30 79 44 80