News
IN ABIDJAN, LouiSimone Guirandou Gallery BRINGS TOGETHER 3 ARTISTS FOR THE EXHIBITION "CUTTING EDGE PERSPECTIVES", FROM MAY 19 TO JUNE 24, 2023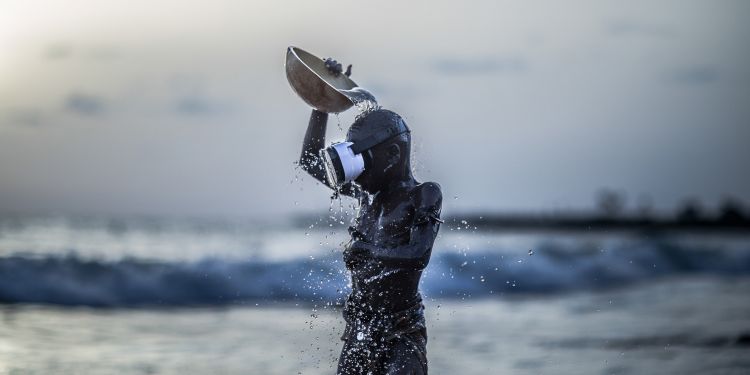 About
1-54 NEW-YORK
Manhattanville Factory,
West Harlem
(439 W. 127th St)
PRESS CONTACT
Jonathan Teyssédou
jteyssedou@communicart.fr
+33 7 67 23 36 85 
After London, Paris and Marrakech, LouiSimone Guirandou Gallery is pleased to announce its participation to 1-54, Contemporary African Art Fair, in New-York, from 18 to 21 May 2023. 1-54 is the first and only international art fair dedicated to contemporary art form Africa and its diaspora. The gallery will present artworks by artists Alun Be, Ablade Glover, Pedro Pires and Ange Dakouo on booth 2.
As a photographer, Alun Be (1981) strives to represent African modernity. His captivating images distinguish themselves through profound expression in high contrast. Born in Dakar, Senegal, his diverse approach has carved a suspended path between his upbringing in France, the United States, and West Africa. Alun Be's art form is constantly evolving through personal projects focused on the human condition in public spaces.
Alun Be lives and works between Paris (France) and Dakar (Senegal). He has notably exhibited during the Milan Universal Exposition (Italy), the Dakar Biennale (Senegal), at the Museum of Contemporary Photography of Chicago (USA) and the Musée du Quai Branly in Paris (France). His works form part of prestigious collections worldwide such as the United Nations, the Museum of Contemporary Photography of Chicago and the Société Générale Bank.
Professor Ablade Glover (1934) is a leading master of contemporary painting in Ghana and a seminal fifigure on the West African art scene. His oil paintings have been exhibited widely, building his international reputation over several decades. They are held in prestigious private and public collections such as the Royal Collection of Prince and Princess Takamado (Tokyo, Japan) and the African American Institute Head Offiffice (New York, USA). Glover has accumulated an impressive number of awards, became Head of Department and Dean of the School of Fine Arts of Kumasi and is a life member of the Royal Society of Arts, London.
Glover's favorite themes are constant : the women and mothers from Africa, market scenes that in his eyes are the link between the village and the city, crowds and landscapes. Using a palette knife, he carves his way through paint in searing colors and depicts vibrant scenes of Ghanaian life.
Pedro Pires questions the human form to address issues of displacement, hyphenated identities and the concept of belonging. His sculptures incorporate a wide range of media, everyday-life and mass-produced objects in order to create a contrast between their ordinary use and the exhibition space. In his series "For the Future", Pires thinks about the future using the wax fabrics which carry heavy symbolism and are controversial due to their history. By molding the busts and heads on his body, he roots his approach in his own interrogations about identity. Pedro Pires lives and works between Luanda (Angola) and Lisbon (Portugal) and exhibited on prestigious occasions such as the Dakar Biennale (Senegal) ExpoChicago (USA) or Sculpture in the City (London, UK). His works can be found in noticeable collections among which the Montreal Museum of Fine Arts (Canada), the Ariane de Rothschild Foundation (France) and the Coca Cola Collection (South Africa).
Ange Dakouo is known for his colorful "woven gris-gris" hangings, inspired by the costumes of Dozos traditional hunters. The concept of his work is based on those sacred amulets known as "gris-gris", reproduced and bound endlessly. They are created from newspaper folds in memory of his father, who was a printer, and from cotton thread tying. Woven together, the gris- gris protect each other as a society regulated by the harmony between its members. At a distance his hangings may be mistaken for textile. Getting closer they reveal the delicacy of the work on paper as well as the originality and rigor of a production of great maturity.
About
1-54 NEW-YORK
Manhattanville Factory,
West Harlem
(439 W. 127th St)
PRESS CONTACT
Jonathan Teyssédou
jteyssedou@communicart.fr
+33 7 67 23 36 85