News
IN ABIDJAN, LouiSimone Guirandou Gallery BRINGS TOGETHER 3 ARTISTS FOR THE EXHIBITION "CUTTING EDGE PERSPECTIVES", FROM MAY 19 TO JUNE 24, 2023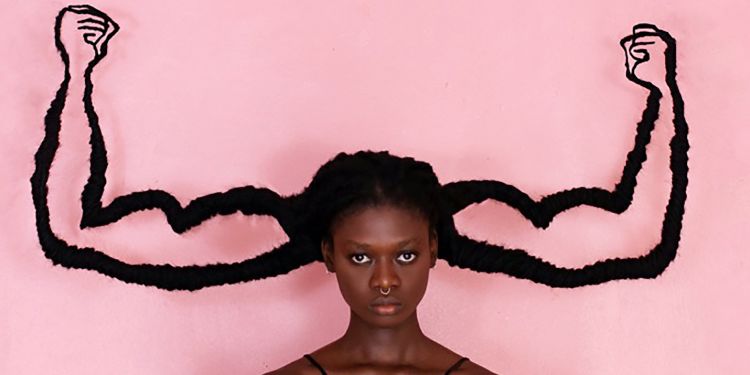 The three artists gathered for the group exhibition Cutting Edge Perspectives awaken the artistic potential of ordinary materials in West Africa, and question the representation of black women in their diversity, at the crossroads of art and fashion. LouiSimone Guirandou Gallery is pleased to bring together in Abidjan the multidisciplinary artist Laetitia Ky, the painter Wanger Ayu and the sculptor Marius Dansou.
Hair, fabrics and concrete iron are sublimated by the three artists, who see in the treatment of fibers the opportunity to update certain traditions to better question them. The agility of their fingers, coupled with their curious and sharp look at our societies, open a dialogue across time and between cultures.
Like an intertwining of threads, the body of work presented brings to light the interconnections between communities, traditional practices and their contemporary interpretation, and highlights a deliberately modern and critical look at the artistic representation of black women.
The group exhibition Cutting Edge Perspectives is an invitation to question the imperatives and traditions that guide our attitudes and actions, to apprehend them in consciousness. The sense of observation of these artists allows them to take a critical look at the world and to offer us a certain interpretation. To better sensitize us, they divert the materials from their Cutting Edge Perspectives Exhibition from may 11 to june 24, 2023 Press release may 2023 ordinary treatment and arouse our curiosity.
Once a fashion designer, Wanger Ayu now incorporates hand-woven fabrics into her canvases. Passionate about traditional West African weaving, Wanger is particularly attached to Tiv A'nger, a traditional Nigerian fabric that her grandfather, who was a weaver, used to create.
She uses it as a support for her portraits or as elements in her composition. Handmade textiles are found in the vast majority of West African communities. Their designs belong to an ethnic group or village, and the textile is a source of pride and a way to identify. Wanger draws on the unifying power of fabric and emphasizes the ties that bind members of the same community like a web of fibers.
Wanger Ayu's portraits are in dialogue with the textile. The characters she represents are for her the means to underline the diversity of black women, and their strength in the face of the social imperatives that affect them in particular. Faced with the injunction made to African women to accomplish themselves only through marriage, Wanger Ayu answers by representing free and modern women, fulfilled in creation. Through her portraits with their melancholic expression and piercing gaze, the artist depicts a whole generation that defies traditional rules..
Marius Dansou sculpts fanciful hairstyles from concrete iron. This rigid and dense material, used for the foundations of a building, becomes as supple as a hair in the artist's hands. Lulled by the Ayônounda (braids in Fongbé language), the twisted aspect of the concrete iron reminds him of the braids of the women around him. Impressed by the agility of the braiders, he appropriates their movements and techniques to imagine new hairstyles.
His sculptures are fed by multiple inspirations. Fascinated by the rich history of hairstyling in West Africa, Marius Dansou relies on the famous photographs of J. D. Okhai Ojeikere. To these traditional techniques, he adds a keen observation of the street and hair salons, fashion trends and the appropriation of the shapes of everyday objects. For example, one can recognize in his sculptures the shape of klui-klui, the twisted peanut cakes produced from Benin to Nigeria. Various inventive hairstyles with curved and straight lines, which one can easily imagine being sculpted from real hair, are displayed in the space.
Laetitia Ky sculpts her hair into bold and committed compositions. It was while discovering the history of frizzy hair that she became fascinated with the traditional hairstyles of African women in the pre-colonial period. In addition to their spectacular aesthetics and technical complexity, these hairstyles have the power to communicate non-verbally, to underline ethnicity, marital status or social rank.
With a natural ease in the art of braiding, Laetitia Ky then mounts on her head real hair sculptures, using her own hair, wires and wool extensions. Each sculpture that Laetitia Ky wears also carries a particular message. With her figurative and resolutely contemporary compositions, she magnifies the frizzy hair and its identity character. The artist thus highlights the potential of natural hair to strengthen the self-esteem of black women and invites them to detach themselves from beauty standards that only value straight hair.
Her works also have a more universal dimension, breaking taboos on the female body and denouncing gender inequalities. Laetitia Ky makes her hair the megaphone of her activism and updates with audacity the neglected beauty codes.
Simone Guirandou-N'Diaye, Art historian, founded in 1991 the Art Pluriels gallery. One of the very first galleries of Primitive and Contemporary Art in Ivory Coast, which has asserted itself by the diversity of national and international artists, by the quality of its creations, by the accumulated experience and the passion that Simone Guirandou-N'Diaye communicates and pass on so well, becoming over the years a cultural meeting place in Abidjan.
It is in line with the continuity that Simone Guirandou and her daughter Gazelle Guirandou inaugurate on December 10, 2015, LouiSimone Guirandou Gallery's new space. A name to materialize a hyphen between two stories, two courses, two lives, two first names. Louis, that of her late husband, who was the first to encourage and support her in her project, and Simone, hers, united through the "S". It is a beautiful tribute to symbolize this modern space, adjacent to the villa LouiSimone Guirandou, which now covers the pool and part of the garden. Every exhibition is a stimulating and rewarding experience, driven by the excitement of risk-taking and artistic choices. For LouiSimone Guirandou Gallery, it is a rare opportunity to interact with a new artistic expression, to meet new sensibilities, but also to benefit from the eyes and different perspectives of a cosmopolitan audience.
Through an avant-garde and eclectic program of works by Ivorian and international artists, emerging or confirmed, LouiSimone Guirandou Gallery continues to impose itself as an essential reference of the Ivorian and African cultural landscape.