News
"LIFE" A SOLO SHOW BY JANE PUYLAGARDE AT 4 PLACE SAINT GERMAIN DES PRÉS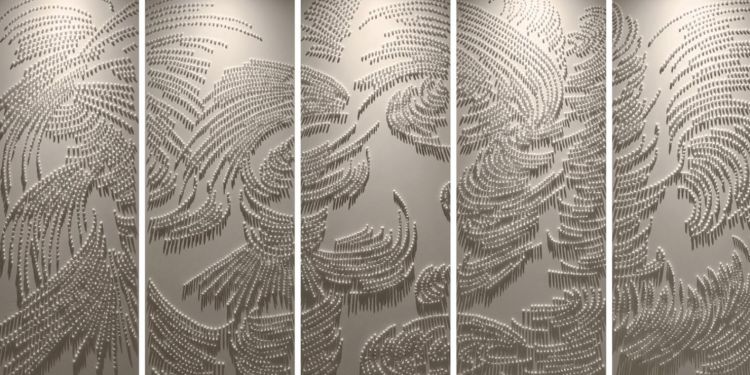 About
EXHIBITION:
From Saturday 13 to Saturday 20 October 2018 12-8pm
PRIVATE VIEWINGS:
Friday 12 October from 6-10pm, Saturday 13 October 12-8pm
CLOSING PARTY:
Saturday 20 October 6-10pm
In the Hôtel particulier of the
SOCIETE D'ENCOURAGEMENT POUR L'INDUSTRIE NATIONALE
4 place Saint-Germain-des-Prés, 75006 Paris
The work of Jane Puylagarde has been the subject of exhibitions and regular acquisitions by many collectors since the 1990s. One of her animated paintings is permanently on display at the Imagine Foundation, a unique research centre for the treatment of genetic illnesses in the new Necker Hospital designed by Jean Nouvel.
"Life, by Jane Puylagarde
Diptychs, triptychs, polyptychs ...
The paintings of Jane Puylagarde, beyond their fragmentation, are part of the continuity of an incessant, dynamic evolution. Pictorial metaphors of life, its impulses, its hazards, its metamorphoses.
Endless work, that the artist pursues, will continue indefinitely, in which the paintings echo, interact, according to their encounters.
Firmly anchored in time by the impulse of the creative breath, and distilling, beyond the shadows, the moving intensity of their surprising light."
Françoise Mandot
About
EXHIBITION:
From Saturday 13 to Saturday 20 October 2018 12-8pm
PRIVATE VIEWINGS:
Friday 12 October from 6-10pm, Saturday 13 October 12-8pm
CLOSING PARTY:
Saturday 20 October 6-10pm
In the Hôtel particulier of the
SOCIETE D'ENCOURAGEMENT POUR L'INDUSTRIE NATIONALE
4 place Saint-Germain-des-Prés, 75006 Paris