News
Le Signe INAUGURATES THE 4TH INTERNATIONAL BIENNALE OF GRAPHIC DESIGN IN CHAUMONT, THE WEEKEND OF MAY 25 TO 28, 2023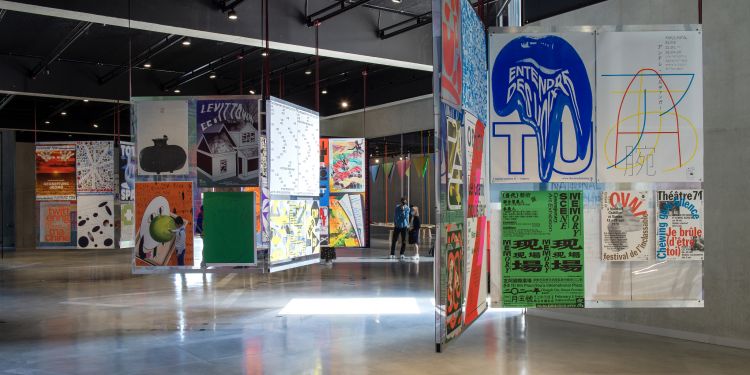 About
Biennale internationale de design graphique :
From 22 May to 21 October 2023
Le Signe, centre national du graphisme
1 Place Émile Goguenheim,
52 000, Chaumont
Press contact : 
www.communicart.fr
Anna Ceravolo
aceravolo@communicart.fr
+ 33 7 81 31 83 10
Le Signe, Centre National du Graphisme, returns this year for the 4th edition of its famous Biennale internationale de design graphique, from 22 May to 21 October 2023 in Chaumont.
Opening weekend 25, 26, 27 and 28 May 2023
Following the path of the emblematic Chaumont poster festival created in 1990, the Biennale celebrates graphic design during five months. The Biennale invites all the actors of graphic design to gather and share the latest developments and challenges of their field, by bringing out a panel of events throughout the city and open to all. Three competitions are organised : the 30th International Poster Competition, the 26th Student Competition with Nina Paim, Marine Benz and Bruno Souêtre as members of the panel of the jury, and the Prix unique du livre, with Coline Sunier & Charles Magé, Temple Magazine and Quintal Editions as members of the panel of the jury. The public will enjoy a rich programme that highlights both young creation and major artists on the graphic design scene, with 12 exhibitions spread throughout the city of Chaumont.
The event gets even more appealing with the exhibition Procès d'Intention curated by Jean-Michel Géridan, which highlights the importance of creative tools in graphic design. Finally, the captivating Parade curated by Vanina Pinter, will unveil the rich diversity of women designers in France.
At the former School of Sainte-Marie, Atelier Baudelaire-Perrin will get sparks flying with the notion of gender and its representation in the field of marketing for toys for children in an exhibition entitled Le petit monde et l'univers. It will be accompanied by Joseph Le Callenec - As du crayon, creator of board games in the post-war period - and the tantalising collections of the Clamart CACC offering a retrospective of 10 years of graphic creations.
Spotlight on young creative design at the Tisza Textile warehouse in Chaumont where the results of two Global Artistic Projects will be presented: Autour du Jeux with Vincent Mathy and Autour du Théâtre with Clémence Passot, as well as the selection from the 26th student competition Who are you? and the Post-Graduate Research Project exhibition.
The Biennial has the aim to show the richness and diversity of graphic design today, as not for only an international and professional audience, but also for amateurs, curious to discover the field of graphic design today.
About
Biennale internationale de design graphique :
From 22 May to 21 October 2023
Le Signe, centre national du graphisme
1 Place Émile Goguenheim,
52 000, Chaumont
Press contact : 
www.communicart.fr
Anna Ceravolo
aceravolo@communicart.fr
+ 33 7 81 31 83 10