News
Le Signe, IN CHAUMONT, ORGANISES THE BIENNALE INTERNATIONALE DE DESIGN GRAPHIQUE FROM 23/05 TO 22/09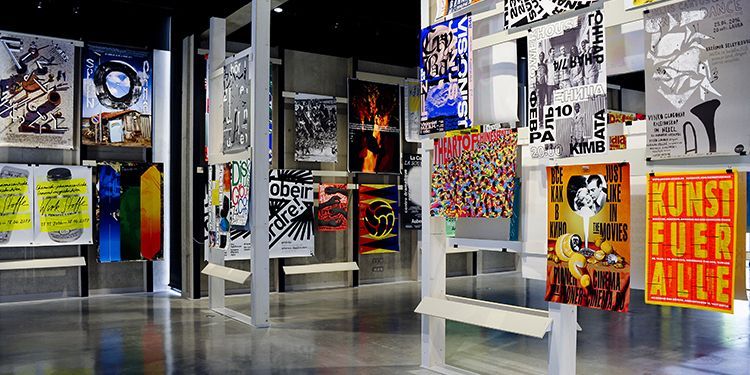 About
THE BIENNALE INTERNATIONALE DE DESIGN GRAPHIQUE
From 23/05 to 22/09
National Graphic Design Center
1, place Emile Goguenheim
5200 Chaumont
centrenationaldugraphisme.fr/
Le Signe, the national graphic design centre, is to organize the 2nd International Graphic Design Biennial from the 23rd May to 22nd September 2019 in Chaumont.
Staying true to the traditions of the iconic Chaumont poster festival, the Biennial is a four month-long celebration of graphic design. It's a great opportunity for all those involved in the field to come together to share practical tips, the latest news and discuss the burning issues of the day through numerous events held all over the city.
'Post-Medium' is the theme of this, the 2nd biennial. This term crops up time and time again in the exhibition of the same name, which examines the different processes whereby the discipline has been transformed. The word can be interpreted in three different ways, encompassing concepts of post-print, multiple media or going beyond the need for media at all. The Post-Medium exhibition showcases the work of artists such as The Rodina, Dia Studio, Roosje Klap, Pauline Le Pape, Josh Schaub, Erich Brechbühl, Laura Knoops and Jonathan Castro.
The general public will be able to enjoy a programme that gives equal prominence to both up-and-coming talents and established artists on the graphic design scene, with solo exhibitions of the works of Frédéric Teschner, Karl Nawrot and Camille Trimardeau and themed exhibitions focusing on, amongst others, 'La Fabrique de l'affiche', France's most beautiful books and entries to the student competition.
The Biennial also signals the start of the 28th international poster competition, an absolutely unmissable event for graphic design professionals.
Around a hundred posters, representing the very best from the contemporary scene, will be on display. For the first time ever in the history of this international competition, a number of animated posters are featured.
Interactive workshops, group discussions, concerts and conferences exploring the world of graphic design are also on the menu with a view to helping people pass on their skills and knowledge, make new discoveries and open up a space for discussion and debate in a welcoming environment.
The Biennial is aimed at international graphic design industry professionals and students, as well as members of the general public whose interest in the subject exceeds their knowledge of it. In fact, one of the key goals of this event is to demystify the whole field of graphic design, making it more accessible to one and all.
About
THE BIENNALE INTERNATIONALE DE DESIGN GRAPHIQUE
From 23/05 to 22/09
National Graphic Design Center
1, place Emile Goguenheim
5200 Chaumont
centrenationaldugraphisme.fr/