News
Galerie Hussenot IS EXHIBITING 6 ARTISTS AT ART BRUSSELS FROM 25TH - 28TH APRIL 2019!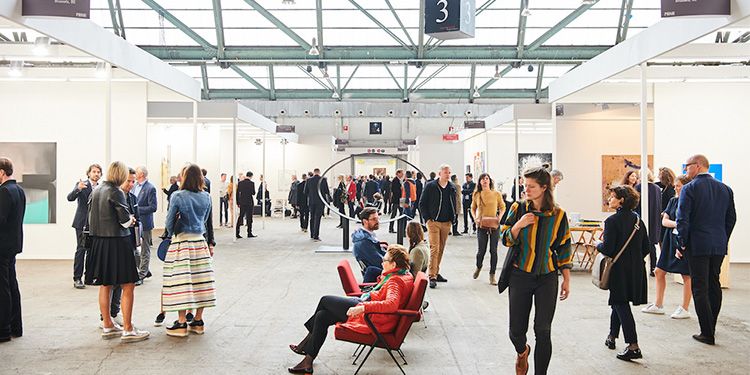 About
ART BRUSSELS
From the 25 to 28 April 2019
Stand A12
ARTISTS
Mira Dancy
Stephan Dillemuth
Nolan Hendrickson
Gavin Kenyon
Ciprian Muresan
Jon Pylypchuk
Galerie Hussenot is pleased to announce its participation at Art Brussels contemporary art fair (stand A12) from 25 - 28 April 2019, at the former industrial site Tour&Taxi, with the following artists: Mira Dancy, Stephan Dillemuth, Nolan Hendrickson, Gavin Kenyon, Ciprian Muresan and Jon Pylypchuk.
Mira Dancy is a New York-based artist whose practice is guided by a feminist approach. Her flamboyant neo-expressionist paintings have caught the eye of several leading American collections. She is currently exhibiting at Galerie Hussenot until 1 June.
Stephan Dillemuth is a 64-year-old German artist whose work focuses on what it means to be an artist and the effects of work on the human body. He produces sculptures by moulding parts of his body. His works were featured in a solo show at the FIAC three years ago.
Nolan Hendrickson is an American painter who recently exhibited at Ramiken Crucible in New York. He was the subject of a solo show at Galerie Hussenot in October 2018 and exhibited at Art Basel 2017.
Gavin Kenyon is known for his anthropomorphic investigations that give rise to cast concrete and ceramic works. His sculptures are made by stuffing items of clothing, shoes and bags (made from materials such as velvet and faux fur) with concrete!
Ciprian Muresan was born in Cluj (Romania) where he still works today. His work takes museum collections and literary works as a starting point and his discoveries are then included in a cross-disciplinary reflection into the realities of contemporary society. His works revisit and reinterpret the icons of modern and contemporary art.
Jon Pylypchuk is a Canadian painter and sculptor working in Los Angeles and using a wide variety of different materials such as bronze, glass, fabric, cardboard and wood etc. His works have already been exhibited in numerous American contemporary art museums, as well as in Japan and the State Hermitage Museum in Saint Petersburg.
Éric Hussenot has a passion for contemporary painting. For the last ten years, he had been defending 15 international artists and exhibiting their work in his monumental "white cube" in the heart of the Marais quarter in Paris. These large premises boast exceptional interior volumes with 12 metre-high ceilings and more than 100 square metres of available wall space. Galerie Hussenot is located in a former foundry and the interior is bathed in natural light that enters through a large glass roof.
Currently on show at the gallery: "SAWBLADE TO THE SUN" by Mira Dancy until 1 June 2019. 5 bis rue des Haudriettes, 75003 Paris.
About
ART BRUSSELS
From the 25 to 28 April 2019
Stand A12
ARTISTS
Mira Dancy
Stephan Dillemuth
Nolan Hendrickson
Gavin Kenyon
Ciprian Muresan
Jon Pylypchuk