News
COME AND FIND Galerie Hussenot AT "INDEPENDENT BRUSSELS" ART FAIR, FROM 8 TO 11 NOVEMBER ON STAND 3_6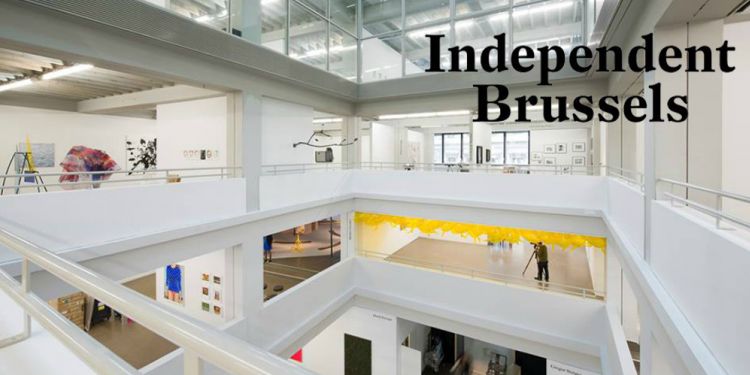 About
INDEPENDENT BRUSSELS
From 8 to 11 Novembre 2018
ARTISTS
Kirsten Everberg
Luis Flores
Gavin Kenyon
Josh Mannis
Eli Ping
Galerie Hussenot is pleased to announce its participation at Independent Brussels, with five international artists, on stand 3_6 from 8 to 11 November 2018.
The works of Kirsten Everberg, Luis Flores, Gavin Kenyon, Josh Mannis and Eli Ping make up Galerie Hussenot's booth for the Independent art fair in Brussels, from 8 to 11 November 2018, on stand 3_6.
In Kirsten Everberg's new paintings, she has taken inspiration from the novel 'Lord of the Flies' by William Golding. For this new series, Everberg creates an almost psychotropic environment that throws the viewer into an atmosphere that evokes the unstable nature of perception. She depicts this plural visual memory by superimposing materials and multiplying the experiences of vision.
Luis Flores, works exclusively with the technique of crochet and is strictly interested in one subject: the self-portrait. Installed in incongruous and sometimes troubling situations, Luis dresses his sculptures in the same clothes that he wears every day giving the scene a genuine feel!
Gavin Kenyon is known for his anthropomorphic research in cast concrete and ceramics. He creates his sculptures by stuffing concrete pieces of clothing, shoes, bags ... in materials such as velvet or faux fur!
Josh Mannis reveals in his drawings complex compositions that keep the eye in an unstable position leading to an interpretation! Rather than an allegory with a message, his drawings seem to arise from a reality simultaneously psychedelic and anxious ...
Eli Ping produces shapes that appear to be the result of natural distortions, pressures exerted on membranes or orifices. They take us to a more organic approach and throw us into another that is purely sexual! Discover his work on our booth at Independent Brussels until Sunday.
Eric Hussenot, who is passionate about contemporary painting, has been promoting 15 international artists for ten years, exhibiting in his monumental "white cube" in the heart of the Marais, Paris. A large space with an exceptional configuration and a ceiling height of 12 meters and an exhibition wall of more than 100 square meters, Galerie Hussenot is located in a former foundry, filled with natural light from its full-surface canopy.
Next exhibition: "SUR FACE" by Martin d'Orgeval from 3 November 2018 to 12 January 2019.
About
INDEPENDENT BRUSSELS
From 8 to 11 Novembre 2018
ARTISTS
Kirsten Everberg
Luis Flores
Gavin Kenyon
Josh Mannis
Eli Ping