News
Custot Gallery Dubai WILL BE AT ART DUDAI STAND B10 FROM 20-23 MARCH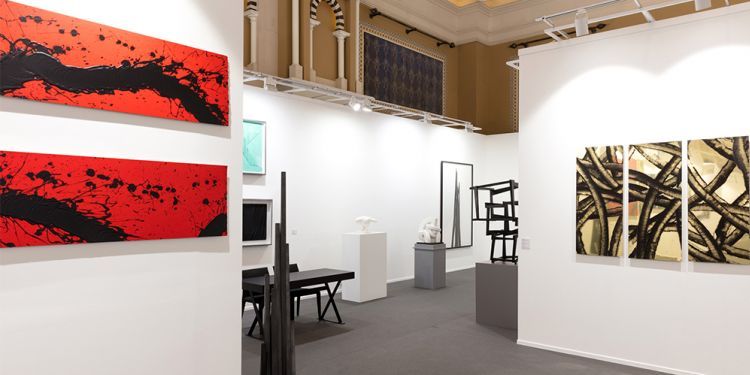 About
ART DUBAI
From 20 to 23 March 2019
Stand B10, contemporary art section
On the occasion of Art Dubai, Custot Gallery Dubai will exhibit a selection of paintings, sculptures and photographs by the international contemporary artists Fernando Botero, Nick Brandt, Ian Davenport, Peter Halley, Richard Höglund, Umberto Mariani, Marc Quinn, Sophia Vari, Bernar Venet and Fabienne Verdier.
The gallery will present works by the American artist Peter Halley. These paintings depict cells, prisons and conduits, rendered in fluorescent 'Day-Glo' acrylic paint and 'Roll-a-Tex' texture additive. His works are diagrams of the lived experience in a contemporary urban environment, in which social space is ever more divided and geometrised but individuals remain connected via 'conduits' of information flows, roadways and electrical grids.
Also, on view, two photographs of the new series This Empty World by Nick Brandt. These works examine the escalating environmental and ecological degradation in East Africa. This series was made on Maasai land in Kenya, where Brandt used colour for the first time to photograph indigenous animals in their natural habitat. Almost always keeping the camera in the exact same position, he then built temporary urban structures in the same location, a highway flyover, a petrol station, and then re-photographed the transformed space. Brandt combines the two images in post-production, composing dramatic scenes that confront urgent environmental issues, such as the scarcity of resources.
The gallery will also exhibit major still life paintings by the Columbian artist Fernando Botero. Through the smooth inflated and sensual representation of fruit, objects, musical instruments and fantastic scenes of everyday moments, Botero pays tribute to the Old Master paintings he studied as a young student in Europe during the 1950s. These works, which come from the artist's own collection have been recently exhibited for the first time at the gallery in Alserkal Avenue.
About
ART DUBAI
From 20 to 23 March 2019
Stand B10, contemporary art section