News
Communic'Art is proud to be releasing Galerie Templon's 50 year anniversary book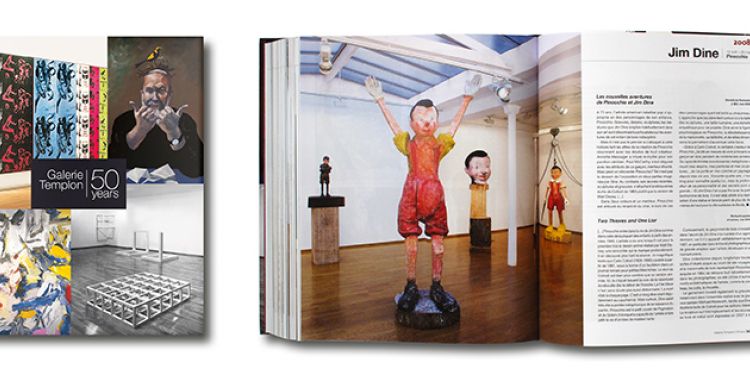 About
Galerie Templon Paris
30, rue Beaubourg - 75003 Paris
​Galerie Templon Brussels
Veydtstraat 13A - 1060 Brussels
The book is now avaiable in bookshops and online.
Created in 1966, this year Galerie Templon celebrates 50 years of contemporary art by publishing an anniversary book with 960 pages.
Compiled and realised by Communic'Art, this unique retrospective which takes a look at images of the exhibitions and critical texts of this era will be available in bookshops and online from 27 October.
With close to 600 exhibitions and 250 artists, Galerie Templon has forged a solid international reputation and today counts among the major players in the contemporary artistic scene.
Within this total of 960 pages, are more than 1,200 reproductions, 650 documents and critical texts (in their original language) pulled from the archives of the gallery re-tracing 50 years of contemporary art. The chronological presentation of exhibitions is preceeded with a bi-lingual French/English introduction and an interview with Daniel Templon by Catherine Grenier, art historian and director of the Fondation Giacometti.
The history of Galerie Templon can easily be confused with the development of the art market and the successive emergence of new artistic waves of the second half of the 20th century: Abstraction, Nouveau Réalisme, Pop Art, Minimalism, Conceptual art, Supports-Surfaces, Italian Trans Avant-garde…
Many of the artists, who have been exhibited in the space on Rue Beaubourg, today have a place in history. Among the most celebrated are, the French artists Arman, Ben, Daniel Buren, César, Gérard Garouste, Paul Rebeyrolle and Claude Viallat, as well as the biggest American names: Carl Andre, Jean-Michel Basquiat, Jim Dine, Keith Haring, Donald Judd, Ellsworth Kelly, Willem De Kooning, Roy Lichtenstein, Robert Rauschenberg, Julian Schnabel, Richard Serra, Frank Stella and Andy Warhol…
 
About
Galerie Templon Paris
30, rue Beaubourg - 75003 Paris
​Galerie Templon Brussels
Veydtstraat 13A - 1060 Brussels
The book is now avaiable in bookshops and online.