News
COME AND ENJOY THE 3RD EDITION OF THE FAIR Galeristes AT CARREAU DU TEMPLE, PARIS, FROM 30 NOV. TO 2 DEC. 2018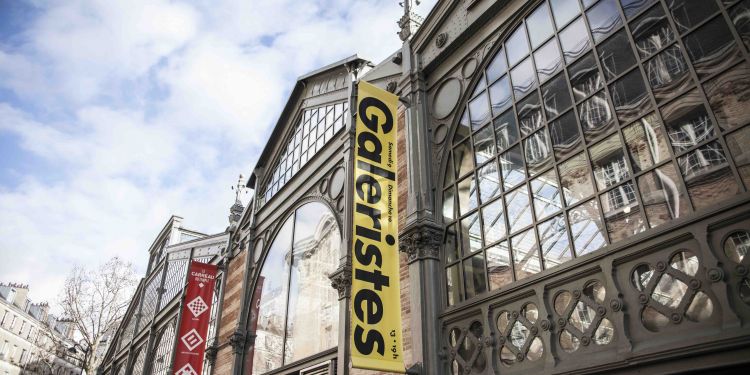 About
Galeristes 
30 November to 2 December 2018
From 1-7pm
Le Carreau du Temple
4 rue Eugène Spuller, Paris 75003
For its third year, Galeristes, the must-see  event in Paris' cultural program, will open from November 30th until December 2nd 2018 at Carreau du Temple, Paris. Founded by art critic and collector Stephane Correard, Galeristes was the first fair to be created by collectors, for collectors.
Galeristes, a relaxed, friendly event where gallery owners and collectors can connect
Galeristes quickly found its role, centred around a simple ideal shared by many, which is enormously important in the world of art: passionate participation. A million miles from the scandals of an art market that is largely driven by speculators and in which money is king, Galeristes' vocation is to promote the galleries most closely associated with the current arts scene in France, whilst also offering a great showcase for international contemporary creative talent in all its rich diversity.
Galeristes' main aim is to help artists make a living from their work and contribute to the creation of a more equal artistic environment in which art lovers and gallery owners will have a crucial role to play.
This art fair is also designed to inspire people to start collecting art themselves by featuring original small galleries offering affordable artwork available to buy in up to ten interest-free instalments.
Galeristes, a salon allowing exchanges and access to contemporary art collections
Since 2016, Galeristes' driving principle has been to facilitate interactions between gallery owners and collectors. Convinced that 'no-one is born a collector – they become one,' Galeristes has fast become the place for gallery owners and art-lovers to meet up and connect in a relaxed, friendly atmosphere.
Located in a welcoming, intimate, non-gallery setting in the Carreau du Temple, Galeristes gives the general public a chance to meet with well-known professional gallery owners, who help bridge the gap between the art world and the public.
In line with this, Galeristes rejects the idea of a gallery as a place accessible only to an elite, by helping establish relationships outside this space which can then eventually continue and indeed flourish in the gallery owners' natural environment, the gallery.
Each gallery owner creates their own distinctive space, a kind of half-way between an office, a backstage visit to a reserve collection and a curiosity cabinet created by an art-lover, with the help of modular elements created by the Dominique Perrault Architecture agency.
Galeristes brings together emerging galleries, some of which are exclusively digital, others established, some located a few minutes from the Carreau du Temple, others in the Paris region, in the regions, or as far as Poland. These galleries have one thing in common: they have proven their ability to forge strong and close links with the French public, particularly in Paris.
Gallery owners change date in October 2019!
After having defined its model in complete freedom, outside the traditional slots of fairs, Galeristes is pleased to announce that its new 2019 edition will be held from 17 to 20 October 2019, at the Carreau du Temple, during the height of contemporary art in Paris, around the Fiac, Paris International and Art Elysées.
About
Galeristes 
30 November to 2 December 2018
From 1-7pm
Le Carreau du Temple
4 rue Eugène Spuller, Paris 75003