News
CLICK AND BROWSE THROUGH THE CATALOGUE CREATED FOR Galerie Templon "CORRESPONDANCES / GÉRARD GAROUSTE AND MARC-ALAIN OUAKNIN"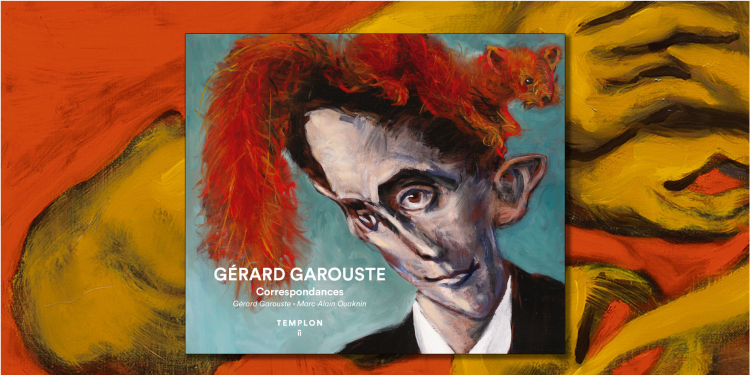 About
Publication description:
Pages: 136 pages of which 88 are four-colour, 48 pages black and white
Format: 287 x 242 mm landscape
Illustrations: 58 full-page reproductions
Edition: French
ISBN: 978-2-917515-40-2
Communic'Art has handled the creation, editing and bookstore distribution of the exhibition catalogue for "Correspondances / Gérard Garouste – Marc-Alain Ouaknin", which will take place 25 March to 19 June 2021, at Galerie Templon Grenier Saint Lazare.
Gérard Garouste has created 25 paintings and a huge triptych, including many dreamed portraits of Kafka and interpretations of the striking symbols known throughout his oeuvre. These paintings are accompanied by fifteen preparatory drawings.
To complement the painter's expression Marc-Alain Ouaknin has gathered in an essay, 30 years of reflection and research on Kafka; his relationship to Yiddish, to Hebrew and to the Kabbalah.
With his friend, philosopher Marc-Alain Ouaknin, Gérard Garouste has long been questioning the great texts on which our civilization is based - the Bible, the Talmud, the Kabbalah - and the great literary texts - Cervantes and today Kafka.
The correspondences that give their name to the exhibition and the book were born from the dialogue between these two thinkers.
To quote Marc-Alain Ouaknin's introduction, "What is privileged here is the dialogue between the painter and the philosopher, which underlines the complicity of their jubilant study and shows how Gérard Garouste's work, like a correspondence that unfolds over time, responds to Marc-Alain Ouaknin's reading of Franz Kafka.
A reading that, with all the playful seriousness of the Kabbalists, invites us to dissect the words and their meanings, to explore the Hebrew tradition's play with language and to point out their extraordinarily strong presence in Kafka's universe.
Characters, situations, unexpected objects and astonishing creatures come to life under the deep and vigorous, playful and dazzling brush of Gérard Garouste, whose every detail questions the gaze and invites the mind to other heights.
Beyond the claimed classicism of a virtuoso painting, Gérard Garouste challenges the contemporary viewer on his relationship to art, to the image and to the avant-garde.
About
Publication description:
Pages: 136 pages of which 88 are four-colour, 48 pages black and white
Format: 287 x 242 mm landscape
Illustrations: 58 full-page reproductions
Edition: French
ISBN: 978-2-917515-40-2