News
1-54 NEW YORK: Galerie Cécile Fakhoury PRESENTS A SOLO SHOW BY ROMÉO MIVEKANNIN, FROM MAY 18 TO 21, 2023. 3RD FLOOR, BOOTH 21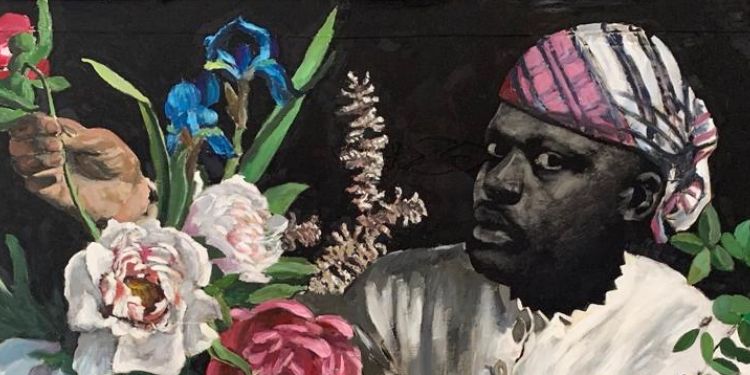 About
1-54 New York :
Manhattanville Factory,
West Harlem
(439 W. 127th St)
Cécile Fakhoury Gallery is pleased to announce its participation in the next edition of 1-54 African Contemporary Art Fair in New York, which will take place from May 18 to 21, 2023 - BOOTH 21, 3rd floor.
To honor this major event in contemporary African art, the gallery will present a solo show by Beninese artist Roméo Mivekannin.
Romeo Mivekannin's works create a theater, where the public is invited to replay history in its own way, to reappropriate the representations of which it may have been the object. The artist chooses to invite himself where he is not expected and to thwart the place that has been assigned to him. He breaks into the space of classical European painting, plastically through his self-portrait, symbolically through the reversal that this reinterpretation implies, from an undergone gaze to a chosen gaze.
Under plural and always sensitive forms, Romeo Mivekannin tries to answer the dispossession of his own image and to crack the cogs of a power which captures the imagination of individuals as well as their visible and tangible bodies.
His work, which is as aesthetic as it is critical, has been the subject of exhibitions in France and abroad:
Zoo humain. Au temps des exhibitions coloniales, Africa Museum de Tervuren, Belgique, 2021
Paris + by Art Basel, Paris, 2022
IMAGINE ! FITE, Musée Bargoin, Clermont-Ferrand, 2022
Biennale de Dakar, Dakar, 2022
Effractions, Galerie Cécile Fakhoury, Abidjan, 2022 
Sharjah Biennial SB15, Sharja, jusqu'au 11 juin 2023
When we see us, Zeitz Mocaa, Cape Town, jusqu'au 3 septembre 2023
Senghor et les arts : Réinventer l'universel, Musée du Quai-Branly Jacques Chirac, Paris, jusqu'au 19 novembre 2023
About
1-54 New York :
Manhattanville Factory,
West Harlem
(439 W. 127th St)