News
Galerie Cécile Fakhoury welcomes the Sadikou Oukpedjo's solo exhibition, from May 11 to June 18 2022, in Paris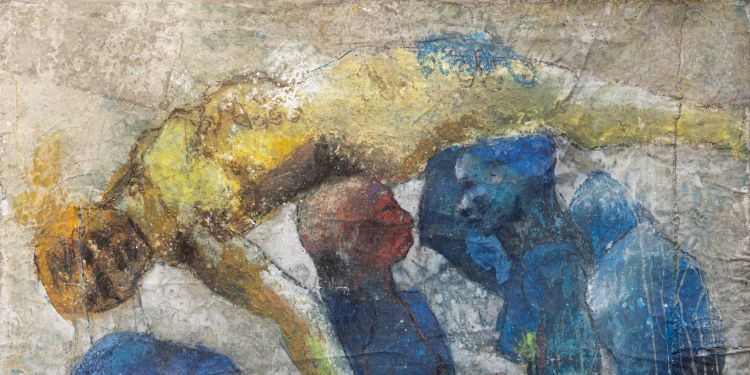 About
Exhibition 
from May 11 to June 18, 2022 
Opening 
May 11, 2022
at 10am
Galerie Cécile Fakhoury
29 avenue Matignon
75008 Paris
Press contact 
Adèle Godet
+33 (0)6 30 79 44 80
Galerie Cécile Fakhoury - Paris is pleased to present Sadikou Oukpedjo's new solo exhibition, Contemporary Memories of a Continent, at 29 avenue Matignon, 75008, from Wednesday 11 May to Saturday 18 June 2022.
At the crossroads of a contemporary vision and an ancestral gesture, Sadikou Oukpedjo's works seem to be inhabited by a magical power. The artist proposes a series of paintings on canvas with subtle colours, more or less deep or ethereal, which, like the apparent paradox suggested by the title, are inscribed beyond earthly contingencies, at the crossroads of the past and the contemporary.
Some works seem to have been revealed to us from an immemorial time, as if excavated from a place preserved by the passage of time. The gentle giants in Sadikou Oukpedjo's works are sometimes shown in introspective postures, withdrawn from the hustle and bustle of the world, sometimes in scenes of struggle or confrontation.
Other works, on the other hand, display bold colours and symbols that leave no doubt as to the modern times Sadikou is criticizing here: an African continent under the sway of foreign interests, dispossessed of its wealth and power, as if blind to this domination, powerless. And beyond that, an uncompromising critique of human baseness, of the repetition of the same old thing and of those who play on the distress of others as they please.
His therianthropic, half-human, half-animal figures are part of a long series of myths and beliefs, from Egyptian deities to shamanic rites. In a manner reminiscent of Greek mythology, Sadikou Oukpedjo's works present heroes and their epics, sometimes fantastic creatures, intermediaries between gods and men, as a pictorial system to explain our societies and the origin of our cities.
The aesthetic subtlety of the paintings of Sadikou Oukpedjo, a prophet artist, nevertheless suggests the finesse of the ideas they evoke. The acerbic criticism is never devoid of tenderness, and the accuracy of the artist's gaze is made up of as much sadness as hope. If the struggle of men with each other and within themselves is often not pretty, it has happened to the gods to thwart their fate. The word of the oracle always has several meanings, which are expressed here in the beauty of the antagonisms, open or intimate, recounted by Sadikou Oukpedjo through his works.
Biography
After having developed, at a young age, an artistic practice essentially focused on sculpture and assemblies, Sadikou Oukpedjo joins in 1998 the studio of Paul Ahyi in Lome, Togo. He then creates his own studio, 15kms from the capital, in the neighbourhood of Agoe Nyeve. Out of his works, which incorporate several traditional objects that he collected, he questions his cultural heritage through the prism of contemporary issues - political abuse of power, social inequalities and religious conflicts.
Over the course of time, he begins to paint as an aside of his work as a sculptor, and then starts numerous aesthetic and material experimentations. From the cement paper to the pastel highlights, from the use of chalks to the canvas painting, Sadikou Oukpedjo creates works with a whole new dimension, as his drawings are modelled in the style of the wood as well as considered as a fully-fledged medium. After a long stay in Bamako, Mali, the country of his foreign origins, he decides to settle in Abidjan, where he essentially dedicates himself to painting.
From 2014, when he returned from the Dakar Biennal, Sadikou Oukpedjo started a new series of works of which the half-human, half-animal figures interrogate the animal part of man and his relationship to the other. They have first been shown in 2014 at 1:54 Contemporary African Art Fair in London, and in 2016, this ongoing series was displayed at his first personal exhibition, Anima, at Galerie Cécile Fakhoury in Abidjan.
About
Exhibition 
from May 11 to June 18, 2022 
Opening 
May 11, 2022
at 10am
Galerie Cécile Fakhoury
29 avenue Matignon
75008 Paris
Press contact 
Adèle Godet
+33 (0)6 30 79 44 80