News
The Spaghetti Benches of sculptor Pablo Reinoso are facing the Grand Palais for FIAC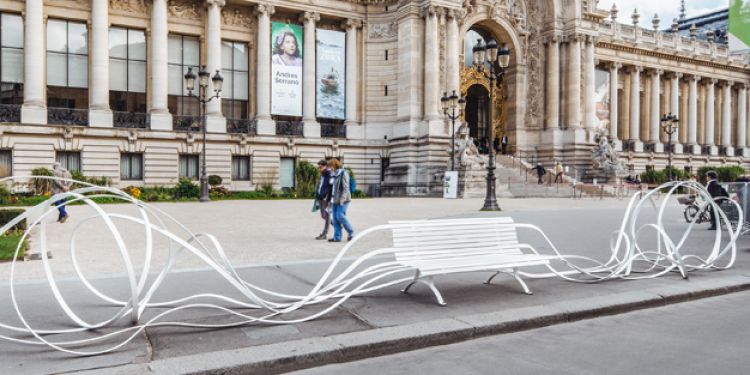 About
From 18 to 22 October for FIAC On Site
Avenue Winston Churchill, facing the Grand Palais
From 18 to 22 October, Pablo Reinoso with Waddington Custot Gallery presents the installation 'Conversations' composed of two sculptures from his series of Spaghetti Benches.
For FIAC, Pablo Reinoso has created an installation opposite the Grand Palais, on Avenue Winston Churchill, which has been pedestrianised for the event, 'Conversations' is a space for meeting, exchange and discourse around two sculptures based on the anonymous design of the slatted public bench, reworked by Pablo Reinoso in his own unique style. 
These works, from his most recent series, focus on metal seats and reflect the artist's latest research on works of art in urban spaces. 
Simple Talk and Double Talk together form 'Conversations', an installation with which the public can interact directly. Pablo Reinoso does not set out to blur the boundaries between art and design; rather, y producing works on which the public can sit, he is laying the foundation for an artistic debate about the place of works of art in the public space.
Pablo Reinoso started the Spaghetti Benches series in 2006, taking the anonymous design of a public wooden-slatted park bench as his point of inspiration for this series. He takes the object and opens up the field of possibilities in giving life to the bench, which goes beyond its original form and freely unfolds in space.
With these sculptures, Pablo Reinoso calls into question the concepts that take over the object's original function and 'exceeds its own nature', making the public bench a place for meeting, conversing and for everyday life.
The first Spaghetti sculptures were made in wood but, concerned about the sculpture's durability, and with a desire to work on a larger scale, Pablo Reinoso turned toward using metal as an artistic medium. The benches presented at FIAC have been conceived in painted steel. 
About
From 18 to 22 October for FIAC On Site
Avenue Winston Churchill, facing the Grand Palais