News
Lalique Art PRESENTS NEW PIECES OF DAMIEN HIRST AND LALIQUE'S 'ETERNAL' COLLECTION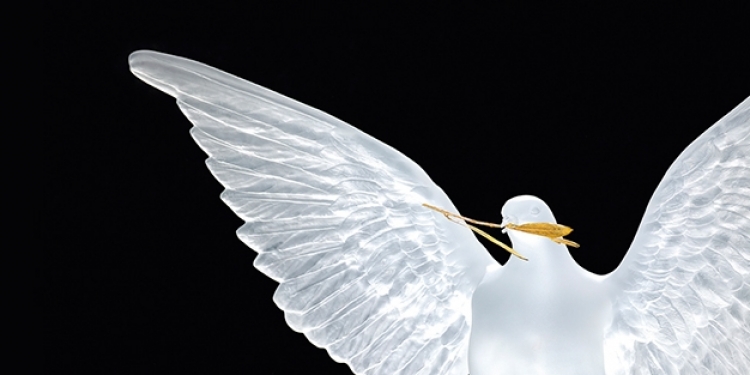 About
'Eternal' - Damien Hirst & Lalique
Press presentation 14 September 10am-6pm 
Lalique
11 rue Royale
75008 Paris
World exclusive presentation of twelve works from the 'Eternal' collection: sculptures and crystal panels created by Damien Hirst and crafted by Lalique's master glassmakers. 
From the 8th to 14th September, the works from the 'Eternal' collection will be exhibited together at the Lalique store (11 rue Royale, Paris). 
The 'Eternal' collection was initially conceived in 2015. A collaboration between British artist Damien Hirst and Lalique, the limited edition crystal pieces feature a selection of the artist's most recognisable motifs, including: the cross, dove, skull and butterfly.
The presentation of these exceptional pieces is the culmination of four years of research and innumerable conversations between Hirst and Lalique, combining the creative expertise of both artist and craftsmen. 
Seven crystal sculptures
The seven sculptures were created using the lost wax technique, a skillful process dating back five millennia, here revived by Lalique. Their "crystal skin" – presented in black, clear and satin finishes – enables an incomparable level of detail. The artworks are available in a limited edition of twenty to thirty-five, numbered and accompanied by a certificate signed by the artist.
Five panels
Following the butterfly crystal pieces created in 2015 (Love, Hope and Beauty), Hirst has added a further two motifs to the 'Eternal' collection of panels: Prayer, depicting a heart pierced by a dagger, and Memento, an open-mouthed human skull.
The images are hot-pressed into the centre of the Lalique crystal panels, ensuring the pieces capture the light, replicating the effect of stained-glass windows. They are available in a selection of different colours. Art editions produced by Lalique Art in fifty copies will be available to collectors. Each piece is numbered and accompanied by a certificate signed by the artist.
Damien Hirst
Damien Hirst was born in Bristol (GB) in 1965. The artist first came to public attention in 1988, before winning the Turner Prize in 1995. Since then, Hirst has employed a wide range of mediums – installation, sculpture, painting and drawing – to explore the complex relationships between art, life and death. As he has previously stated, art is "an expression of life, nothing more, nothing less – that's all there is". 
Since 1987, Hirst has had more than ninety international solo exhibitions devoted to his work. He is widely represented in numerous major public and private collections.
His current exhibition in Venice, 'Treasures from the Wreck of the Unbelievable', is his most ambitious and complex project to date, and was almost ten years in the making.
Lalique Art
Since 2011, Lalique Art has placed the expertise of Lalique at the service of major contemporary artists, cultural foundations and outstanding designers to create unique and exceptional works of art in crystal. Such works make use of the interplay of light, transparency, colour and contours unique to the medium of crystal. 
This collaboration with Lalique Art offers new sources of inspiration to artists and designers who wish to engage with a rarely explored and surprising medium, drawing on the age-old expertise and understanding of the creative process that is possessed by Lalique's master glassmakers.
The exclusive relationship between the artists and Lalique Art gives rise to new forms of creative expression. 
About
'Eternal' - Damien Hirst & Lalique
Press presentation 14 September 10am-6pm 
Lalique
11 rue Royale
75008 Paris