News
Galerie Cécile Fakhoury ABIDJAN PRESENTS FRENCH-IVOIRIAN PHOTOGRAPHER FRANÇOIS-XAVIER GBRÉ, FROM 23 SEPT. TO 30 DEC., 2021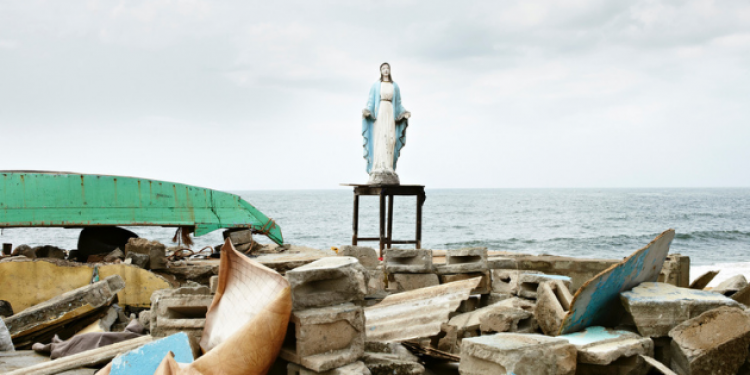 About
GALERIE CÉCILE FAKHOURY ABIDJAN
Tel. +225 22 44 66 77
Boulevard Latrille,
derrière l'Immeuble Carbonne
Cocody, Abidjan - Côte d'Ivoire
PRESS CONTACT
Anaïs Tridon
+33 7 81 31 83 10
Galerie Cécile Fakhoury (Abidjan, Dakar, Paris) is pleased to present Franco-Ivorian photographer François-Xavier Gbré's new solo exhibition, which will be held in Abidjan from September 23 to December 30.
Winner of the Prix Découverte des Rencontres d'Arles in 2020, his work calls on the language of architecture and landscape as a witness to history and social change.
Between France and the Ivory Coast, this Ivorian artist who grew up in Lille confronts change, economic growth, major urbanization and especially the traces of an Ivory Coast of the in-between. Step by step, François-Xavier Gbré creates his own landscape through a collection of photographs that reveal everyday life invisibilities.
With a sensitivity committed to noting the world's condition, the photographs of François-Xavier Gbré reveal a passage, a trace.
The unexpected object, the detail that refers to history is always present.
In the urban confusion that sometimes loses us, he raises the question of our modes of functioning, our social relationships, our relationship to History, on a local scale, in the echo of a universal expression.
In a constant dialogue with his environment, he uses different scales and exhibition modes of the photography: through the presentation of meticulous installations, linked to a real investigation of the territory, or in the use of architecture to make photography resonate in a physical relationship to the viewer or to the public space.
For this new exhibition, François-Xavier Gbré presents a set of works made over the past two years in Côte d'Ivoire.
Born in 1978 in Lille, France. François-Xavier Gbré lives and works between La Rochelle, France and Abidjan, Ivory Coast. In touch with time and geography, his work summons the language of architecture as a witness to memory and social change.
From colonial vestiges to landscapes redefined by current events, he explores territories and revisits history.
FRANÇOIS-XAVIER GBRÉ
SOLO SHOW
 FROM 23 SEPTEMBER TO 30 DECEMBER, 2021
GALERIE CÉCILE FAKHOURY, ABIDJAN
About
GALERIE CÉCILE FAKHOURY ABIDJAN
Tel. +225 22 44 66 77
Boulevard Latrille,
derrière l'Immeuble Carbonne
Cocody, Abidjan - Côte d'Ivoire
PRESS CONTACT
Anaïs Tridon
+33 7 81 31 83 10