News
FONDATION CALOUSTE GULBENKIAN, THE LARGEST PORTUGUESE LANGUAGE LIBRARY OUTSIDE THE LUSOPHONE WORLD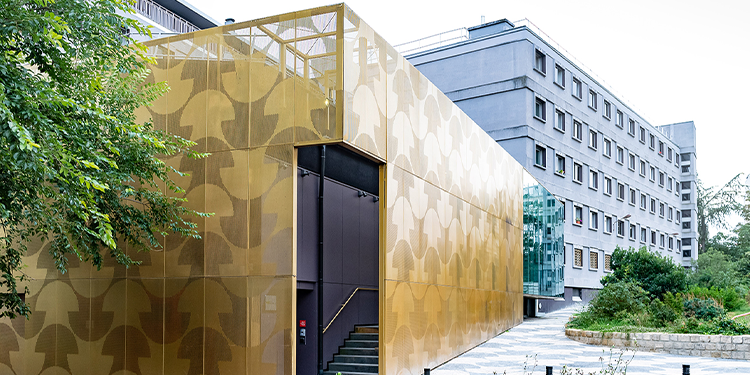 About
DÉLÉGATION EN FRANCE DE LA FONDATION CALOUSTE GULBENKIAN :
54 Bd Raspail, 75006 Paris
Press contact :
Jonathan Teyssédou
jteyssedou@communicart.fr
+33 (0) 7 67 23 36 85
For over 60 years, the Calouste Gulbenkian Foundation's Delegation in France has been working to promote Portuguese culture in France.
With a rich program, webinars, exhibitions, activities related to Portuguese culture and the Lusophone world as a whole, but also and above all with a vast collection of old books, the institution is a leader in terms of dissemination of Lusophone culture. Indeed, the library holds nearly 63,000 documents in Paris at the Cité internationale universitaire and the Maison du Portugal.
These collections allow us to understand the importance and influence that Portugal has had on the world over the centuries. In addition to the conservation of its documents, the library is undertaking a project to digitize the archives of the Portuguese Cultural Center in order to preserve the works in case of deterioration or incident. The themes covered by these collections are Portuguese literature, history, heritage and architecture, visual arts, performing arts and contemporary culture.
Each month, the library publishes a bulletin of new acquisitions, allowing a wide audience to be informed, to consult and/or to borrow these novelties.
In addition, the library offers you to discover on this occasion, a work of its old collection highlighted with a decoding and an analysis elaborated by specialists in the field, aiming at its divulgation and at a better understanding of this collection. This work is carried out by Ana Paula Jorge, librarian in charge of the collection management and reference service. The Foundation has an important library tradition, following in the footsteps of its creator who was a lover of the arts and letters.
About
DÉLÉGATION EN FRANCE DE LA FONDATION CALOUSTE GULBENKIAN :
54 Bd Raspail, 75006 Paris
Press contact :
Jonathan Teyssédou
jteyssedou@communicart.fr
+33 (0) 7 67 23 36 85