News
Cité des Sciences et de l'industrie presents "Cabanes", an exhibition to enjoy with all the family until 5 January 2020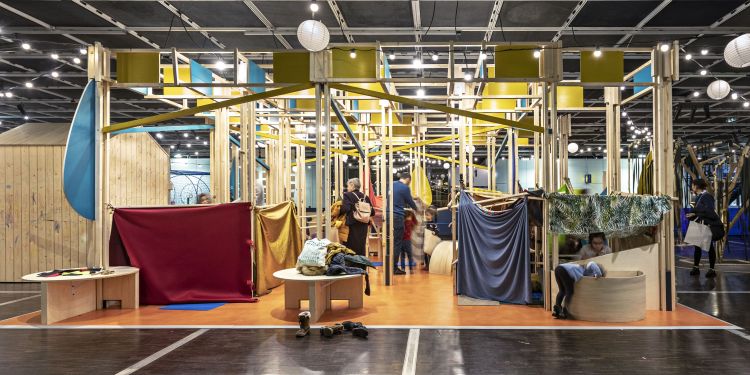 About
"Cabanes"
Exhibition showing from 22 December 2018 to 5 January 2020
Cité des sciences et de l'industrie
30 avenue Corentin Cariou
75019 Paris
Cabanes, at the Cité des Sciences et de l'Industrie from 22 December 2018 to 5 January 2020, is located in a new space on the first floor that is now devoted to children's exhibitions. In this surprising exhibition, children aged 2 to 10 explore around twenty original cabanes (French for a cabin or a child's den) created especially for the event by artists and craftsmen. There's a cabin made of knots and one that moves, a transparent cabin and a cabin whose interior you can glimpse from outside, a scary cabin, one to build yourself and so many more!
For children, building a den is also about building their sense of self and creating a world when they make the rules. Even if it is just a makeshift cabin made with three cushions, a den is a refuge, a hideaway and a secret place. More than a physical territory, it opens the door to a mental space and is a place of respite. You can build one just for you, or for others, as a place to escape from the world or to invent a whole new one. For a child, building a den or a cabin is also a way of developing their motor functions, their ability to anticipate, their creative skills, team work and getting a first experience of learning by trial and error.
You could say that a child's first den is on its mother's lap or wrapped in its parents' arms; a place where they can feel safe and experience the limits of their body. Hiding away in a den meets fundamental psychological needs, such as the need to group together, to feel safe or as an opportunity to regress. Whatever their culture or origins, children all over the world feel this same desire to be contained: cabins and dens are without a doubt a truly universal theme.
About
"Cabanes"
Exhibition showing from 22 December 2018 to 5 January 2020
Cité des sciences et de l'industrie
30 avenue Corentin Cariou
75019 Paris