News
The CENTRE DES ARTS D'ENGHIEN, near Paris puts on exhibit the fantastic univers of artist Yoichiro Kawaguchi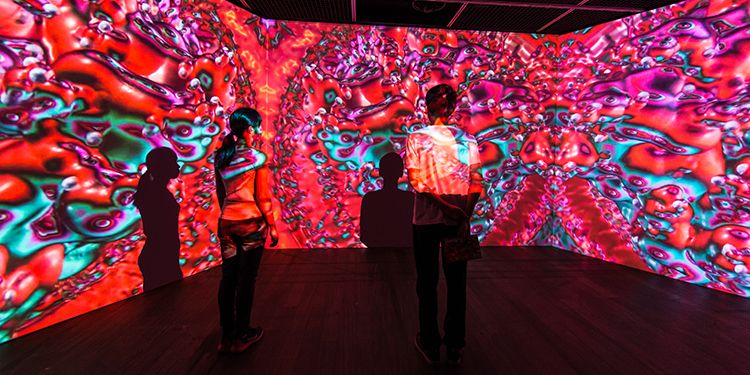 About
Exhibition Yoichiro Kawaguchi
From 5 May to 8 July 2018
Centre des Arts d'Enghien-les-Bains
2-16 Rue de la Libération 
95880 Enghien-les-Bains
Photographs, videos, installations and even giant inflatable structures, this first retrospective exhibition in France by Japanese artist Yoichiro Kawaguchi plunges the viewer into a world that is both fantastic and futuristic, as well as strange and sometimes disturbing. A researcher into 3D digital images, he was one of the pioneers in synthesised imagery, as from the end of the seventies.
 
 Invitation to a "Cosmic Paradise" 
Creatures born of genetic mutations, the vestiges of a forgotten past or the avant-garde to a science fiction novel where everything has yet to be written, the visual world of Kawaguchi comes straight from oceanic or cosmic depths, from their poetry and the way they are imagined.  
Oscillating between vegetable and animal, the creatures that people his artistic world are constantly evolving, eternally mutating. Burgeoning filaments, arborescent, bulbous, these species seem to produce and reproduce infinitely, illustrating the principle of metamorphosis developed by Yoichiro Kawaguchi throughout his work.
Their flesh is drawn in a play of saturated colours, reduced to a mere luminous casing, to a simple membrane without folds, smooth, without thickness and semi-transparent. And this skin, as shiny as mercury, partially reflects both the world it bathes in and the parts of the body to which it belongs, in a fascinating play of mirrors, where the object is confused with its reflection. 
A vision of tomorrow's world, cradled in dreams
From each of his works, light breaks forth, light that is reminiscent of the subtle art of lacquer, of black glaze, the art of matt and shine and an obsessional taste for metamorphosis, with the latter translated according to the notion of "Mujô-kan" in Japanese, the impermanence of beings in an ephemeral world.
This exhibition, at the crossroads of biology and computer science, is an opportunity for showing new models of representation, controlled using digital technologies, and for generating 3D images and prints amongst the outsized shapes and reworked textures.
The artist's skill, resulting from both scientific and artistic research, here brings futuristic imaginings to life, in his own vision of tomorrow's world, created from fantasies and uncertainties. This is a world governed by technological forces, which will allow, starting from what already exists, the creation, transformation and mutation of new materials and new beings, according to an alternative process of reproduction. The strength of Yoichiro Kawaguchi consists of making of his synthesised images, obtained using technological and scientific processes, a dreamlike, poetic world. 
About
Exhibition Yoichiro Kawaguchi
From 5 May to 8 July 2018
Centre des Arts d'Enghien-les-Bains
2-16 Rue de la Libération 
95880 Enghien-les-Bains