News
Inauguration of Arne Quinze's monumental artwork curated by ArtBliss Paris now at Paris Expo Porte de Versailles, a Viparis site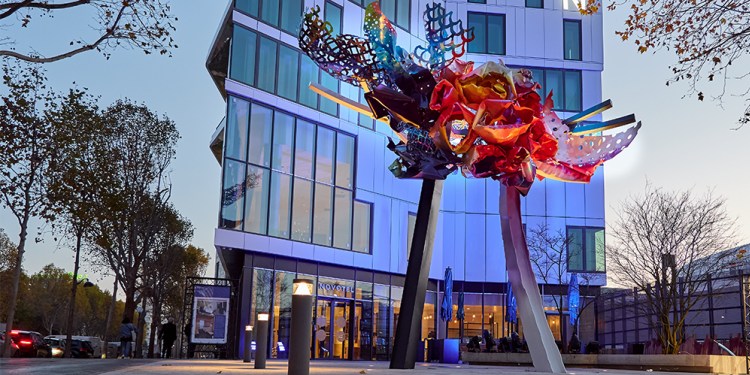 France's first permanent public sculpture by internationally-renowned artist Arne Quinze has just been installed in Paris. 'The Beautiful Dreamer' was unveiled on Wednesday, November 20th, 2019 at the Paris Expo Porte de Versailles exhibition centre, alongside major building projects by Jean Pistre, Denis Valode, Jean-Michel Wilmotte and Jean Nouvel.
This unveiling is an important landmark in the hugely-ambitious program of modernization at Paris Expo Porte de Versailles, which has been masterminded by Viparis since 2015. As part of this program, ArtBliss Paris, which specializes in the installation of artworks in urban landscapes, was entrusted the task of commissioning an original sculpture specifically for this site.
'The Beautiful Dreamer', an organic work on an impressive scale by Arne Quinze
Viparis entrusted ArtBliss Paris with the commissioning of 'The Beautiful Dreamer', the first permanent large-scale public sculpture by Arne Quinze in France.
Given the scale of the project, ArtBliss Paris first contacted Belgian artist Arne Quinze two years ago, inviting him to do what he does best - capturing the beauty of nature and bringing it to an urban setting. In concrete terms, this involved dreaming up a large-scale organic sculpture standing 11.5 metres tall for Paris Expo Porte de Versailles.
Made from a range of different metals, this brightly-coloured, enchanting bloom cast from bronze and featuring natural stone elements, is located between the Mama Shelter and Novotel hotels, a short distance from the new pavilion 6. This location also enables it to set off the new main entrance to the site (gate B) to great effect.
International artist Arne Quinze has been working in cities the world over for more than 25 years. He is driven by a deeply-felt desire to help our urban spaces become better places by investing the areas where we live and work with more of a human touch, as well as by 'greening' the city. From Shanghai and Beirut to Washington, Brussels, Mumbai and Rio, his sculptures are helping to open exciting new chapters in the field of urban development.
An artistic trail at the heart of Paris Expo Porte de Versailles
In 2015, Viparis launched a huge program aimed at completely transforming Paris Expo Porte de Versailles by 2024. The end goal is to bring the venue up to the very highest international standards, to make it an exemplar of sustainable development, a place to do business and somewhere that's full of activity and life. There is also a desire to include an artistic dimension with the two-fold purpose of creating a more varied visitor experience and of opening up this meeting place more to the surrounding urban area.
With all this in mind, a sculpture by world-renowned artist Arne Quinze, specially created for Paris Expo Porte de Versailles, was unveiled at the opening of Phase 2 of the modernization project on November 20th.  This unique work of art is symbolic of how the centre is opening up to the rest of the city, whilst simultaneously bringing art and the natural world together. 
Moreover, a number of artists drawn from a very wide range of genres helped create an artistic trail within the centre itself, each focusing on their own particular specialization.
Jean-Jacques Pigeon conceived 'Volutes Végétales' as a kind of rainbow, a rainbow suspended above the staircase of the 'Hub des services' visitor facility, located at the entrance to the complex. François Gaunand designed the interior lighting for the Tunnel Renan (which connects pavilion 1 to the rest of the site), creating a playful, ever-changing light show. To round things off, Paris is now home to the largest mural in Europe, with the roof of Pavilion 3 at Paris Expo Porte de Versailles acting as the canvas for Ella & Pitr's artwork.
Each year, Viparis, a venue operator which manages 9 major conference and events venues in the Greater Paris area, sees an average of 10 million visitors come through the doors of its premises (general public, professionals, spectators), which play host to 800 events across a full range of fields in Paris Expo Porte de Versailles, Paris Le Bourget, Paris Nord Villepinte, the Espace Champerret, the Palais des Congrès de Paris, the Palais des Congrès d'Issy, the Carrousel du Louvre, the Espace Grande Arche and the Hôtel Salomon de Rothschild.
An art project commissioned and overseen by ArtBliss Paris
Viparis asked ArtBliss Paris, which specializes in art consulting services for major property schemes and urban development programs, to commission and oversee the installation of Arne Quinze's iconic artwork for Paris Expo Porte de Versailles.
ArtBliss Paris is represented by numerous projects both in France and further afield. These encapsulate its vision of art and property working together, encouraging artists to create original works expertly tailored to the locations they're destined to grace.
Part of this same wave are the numerous artistic projects set to appear all over the world in 2020, such as 'Stone Capital' with Joseph Kosuth, a residential project at Paris' Place des Victoires. 2021 is also looking busy, with a huge artistic trail to be prepared for the real estate developer Eagle Hills (Emaar) for a mixed-use development in Bahrain and a marina in Egypt. ArtBliss Paris has also managed many commissions in the past, for example, artwork for the Apsys shopping centre in Poland in 2016, the BNP Immobilier offices in France (2018), and most recently, an art walk at Altarea's Cap3000 shopping centre in October 2019.
'Our partnership with Arne Quinze just seemed such a perfect fit. We wanted to come up with a work of art that would really be equal to Viparis' breadth of vision and appropriate to its values and ambitions. Arne's work was absolutely ideal. The modernization of Paris Expo Porte de Versailles is very firmly focused on re-greening the site, bringing the area back to its roots - quite literally - as a park. Arne's work 'The Beautiful Dreamer' is dynamic, approachable and just dazzling - in our opinion, it perfectly communicates Viparis' desire to bring the natural world back to centre stage, at the heart of a bustling urban venue that welcomes millions of visitors from all over the world.' 
Nadine Castagna and Patricia Chicheportiche, co-founders of ArtBliss Paris