News
LA HUNE SHOWS MATTHIEU RICARD'S "HALF A CENTURY IN THE HIMALAYAS"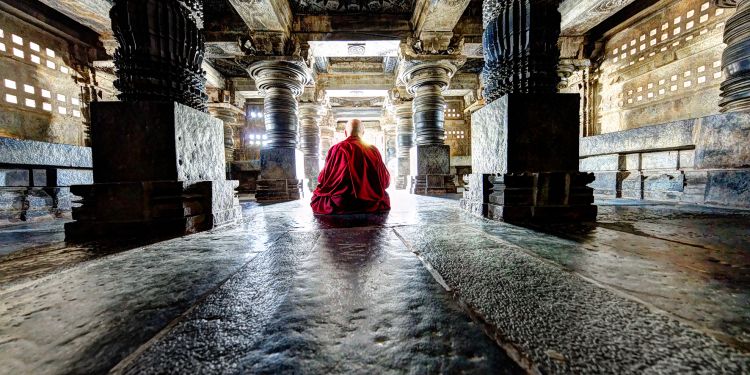 About
LA HUNE
Place Saint Germain-des-Prés
16, rue de l'abbaye / 75006 Paris
This exhibition of the famous photographer's work takes on a particularly poignant dimension when one thinks that it was initially programmed for autumn 2017 but was severely disrupted by the terrible fire that swept through the gallery that year. 'Half a century in the Himalayas', a real ode to travel and contemplation, casts a benevolent gaze, full of wisdom and tranquillity, over the landscapes and the day-to-day life of the inhabitants of the Himalayas. A Buddhist monk, photographer, Lumix brand ambassador and writer with a PhD in molecular genetics, Matthieu Ricard is one of the key intellectuals of our age. After his first trip to India in 1967, when he met some of the great Tibetan spiritual leaders, he set off to settle in the Himalayas in 1972. He now spends most of his time in Shechen Monastery in Nepal. Having become a Buddhist monk at the age of 30, being a close disciple of great spiritual leaders and a fluent speaker of Tibetan, Matthieu has enjoyed unparalleled access to life behind the scenes in Buddhist monasteries, spiritual leaders and nomadic communities, not to mention holy places and incredibly isolated natural habitats. He's constantly on the look-out for new subject material and his wanderings have always been characterized by a desire to produce a photographic record of the everyday life of the local people and the environment in which they live. 'An ode to beauty, that's what photography is all about for me. Over the course of 50 years spent in the Himalayan region, I've had the tremendous privilege to live alongside Tibetan great masters such as Kangyur Rinpoche and Dilgo Khyentse Rinpoche. I've been able to see at close quarters the qualities and character that made them remarkable. I've also had the chance to discover the daily lives of the inhabitants of the Himalayas and the wild places in these great mountains. My aim was to transmit something of the beauty, raw emotional impact and hidden depths of their world.' states Matthieu Ricard. During his career and his many travels, Matthieu has rubbed shoulders with some of the biggest names in photography, who have gone on to become his friends and guides. Among those who helped him to develop his artistic vision was the great Henri Cartier Bresson, who once said: 'Matthieu's spiritual life is inextricably bound up with his camera – from both come images that are simultaneously ephemeral and timeless.' This is the first time Matthieu Ricard will be able to exhibit his photographs in an art gallery. He has chosen La Hune to showcase his elegant, heartfelt and profoundly people-centred perspectives on this region and its inhabitants. The prints are presented and produced according to Matthieu Ricard's long-standing approach: printed on hand-made Japanese washi paper (Bizan white from the Awagami factory), and framed in wood, they are sold as a very limited edition (a run of 8 each). Matthieu Ricard donates all of the revenue from the sale of photographs and books and speaker fees to the Fondation Matthieu Ricard and Karuna-Shechen. Twenty years after it was founded, the charity helps more than 250,000 people every year in Asia. It is active in the fields of healthcare, education, the environment and social programmes and is exploring the idea of extending its scope to the most marginalized sectors of European society. The exhibition 'Half a century in the Himalayas' by Matthieu Ricard can be seen from February 28th 2019 onwards at La Hune art gallery.
About
LA HUNE
Place Saint Germain-des-Prés
16, rue de l'abbaye / 75006 Paris