News
CONTEMPLATION MATTHIEU RICARD and SIMÓN VÉLEZ present a new project in Arles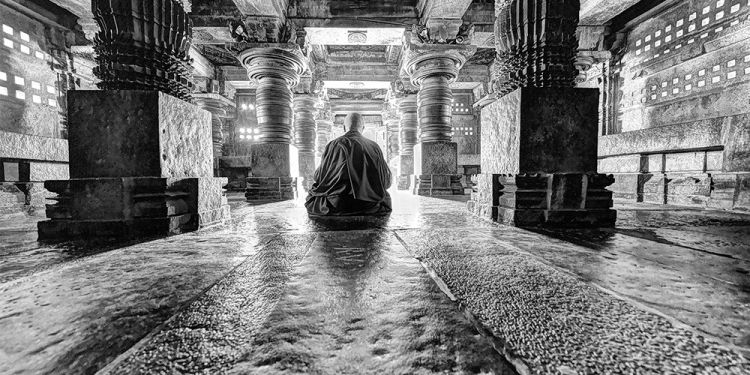 About
Exhibition from 2 July to 23 September 2018 
Opening week at Recontres d'Arles 
From 2 July to 8 July
From Monday to Sunday - from 10:00am - 7:30pm 
During the Rencontres d'Arles from 2 July to 23 September 23  2018, a monumental, 1,000 m2 creation, designed by architects Simón Vélez and Stefana Simic and made entirely from bamboo, will play host to 40 exclusive photos taken by Buddhist monk Matthieu Ricard.
A monumental structure on the banks of the Rhône
This installation has taken root facing Arles' old town on the banks of the Rhône in the rapidly developing district of Trinquetaille. Simón Vélez, the famous Columbian architect who specialises in natural architecture, had already devised a similar 5,000 m2 construction to house an exhibition by photographer Gregory Colbert in Mexico. For the 2018 edition of the Arles festival and in partnership with Stefana Simic, he has imagined and designed this unique 1,000 m2 pavilion for Matthieu Ricard. The bamboo structure can welcome 500 visitors at once and has been designed as a "place of serenity" propitious to discovery and contemplation, thereby bridging the gap between the arts and Matthieu Ricard's spiritual commitment.
Signed images printed on 1,400 year-old Japanese paper
The forty black and white photos by photographer and Buddhist monk Matthieu Ricard will take their place at the heart of this pavilion in a central hall designed for the exhibition. The photos are printed on traditional Japanese Awagami paper, which is a part of the country's heritage and whose production dates back some 1,400 years. These photos, taken between 1983 and 2017, bear witness to a lifetime devoted entirely to spiritual questions.
The forty, 2 m x 1.5 m prints will occupy the entire space, immersing the spectator in a world that encourages reflection. Each photo will be accompanied by a phrase that provides food for thought and which was handwritten by Matthieu Ricard himself.
From Nepal to India, from Argentina to Tibet and from Chilli to Bhutan, light emerges from the plenitude of immense landscapes inducing in visitors a mood of contemplation.
Our partners:
Honorary patron: VINCI CONSTRUCTION France.
Co-produced by: Les Rencontres d'Arles and the Fonds de dotation Contemplation.
With the support of the: Luma Foundation, Festival International de Piano de La Roque, the Ville d'Arles and SNCF Immobilier.
And the technical assistance of: JC Decaux, Marfret, Derichebourg, FTPA AVOCATS, Myamo, Le Cabinet, Yorgo&Co and Enlaps.
About
Exhibition from 2 July to 23 September 2018 
Opening week at Recontres d'Arles 
From 2 July to 8 July
From Monday to Sunday - from 10:00am - 7:30pm