News
BOUVET LADUBAY, CONTEMPORARY ART CENTER IN SAUMUR, PAYS TRIBUTE TO ARTIST GUY DE ROUGEMONT FROM JUNE 4 TO OCTOBER 2, 2022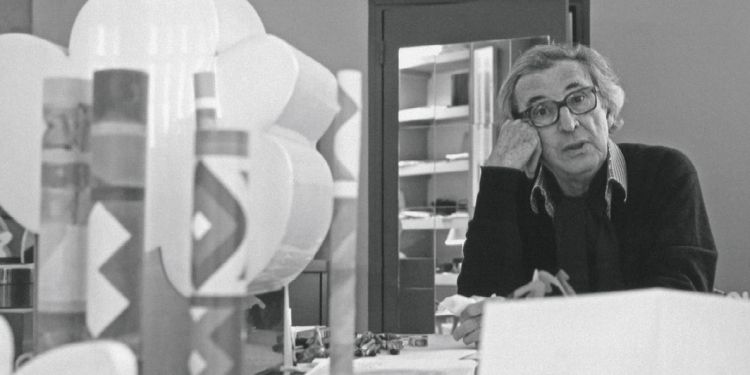 About
Exposition 
From June the 4th to October the 2nd 2022
Centre d'art contemporain Bouvet Ladubay
Saint-Hilare-Saint-Florent, 
49400 Saumur
+33 (0)2 41 83 83 83 
Press contact: 
Chloé Martin
+33 (0)7 69 75 11 78
The contemporary art centre Bouvet Ladubay honours the French artist Guy de Rougemont, through a retrospective exhibition to be discovered from June the 4th to October the 2nd 2022.
This exhibition pays tribute to the complete and prolific artist that Guy de Rougemont was, thanks to a rich selection of works that retrace all of his creations: Volumes, paintings, cylinders, watercolours and artists' furniture. 
The diversity of the pieces selected, whether iconic or more intimate, offers a wonderful panorama of Guy de Rougemont's multidisciplinary artistic practice. The exhibition highlights Guy de Rougemont as a painter, through his early vinyl paintings on canvas, the starting point for the exploration of forms and lines that would later make him famous. 
Several later paintings from the "Aquarelles" series produced at the end of his career show the artist's initial attachment to the plane, to which he would always return. His paintings also inspired him to explore space and create environments, sculptures and artist's furniture. The exhibition thus pays tribute to his singular approach to dimension, with landmark works such as Volume, from 1967, and Column, from 1976.
His sculptures, which are like line drawings in space, blur the boundaries between disciplines. The exhibition also highlights Guy de Rougemont's talents as a designer, although he would prefer to call his creations 'artists furniture'. His colourful table-sculptures give this term its full meaning. They bear witness to the artist's desire to bring art into everyday life and to make it accessible to all. 
ABOUT THE BOUVET LADUBAY CONTEMPORARY ART CENTRE
The vocation of the contemporary art centre is to revive the pleasure and spirit of the Renaissance in the heart of the Loire Valley. The Centre d'Art Contemporain Bouvet Ladubay is composed of 8 exhibition rooms and a bookshop hall, spread over nearly 800m2 in former 19th century premises, in front of the Caves Bouvet Ladubay, on the banks of the Loire in Saumur.
About
Exposition 
From June the 4th to October the 2nd 2022
Centre d'art contemporain Bouvet Ladubay
Saint-Hilare-Saint-Florent, 
49400 Saumur
+33 (0)2 41 83 83 83 
Press contact: 
Chloé Martin
+33 (0)7 69 75 11 78