News
AMERICAN ARTIST ETHAN MURROW'S SOLO SHOW AT THE Galerie Les Filles du Calvaire, FROM SEPT. 4 TO OCT. 23, 2021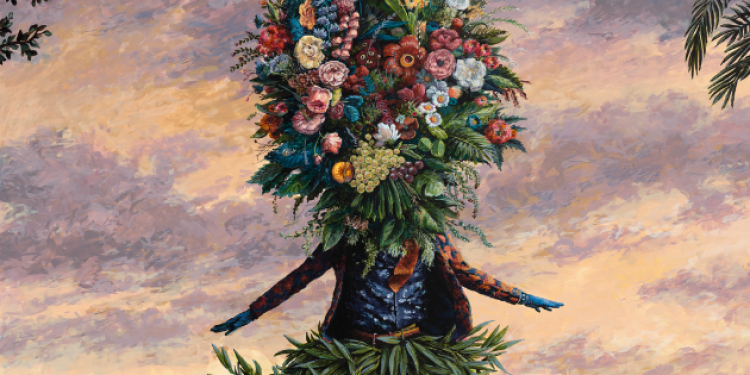 About
17 rue des Filles-du-Calvaire,
75003 Paris
Subway : ligne 8
station Filles du calvaire.
Bus : lignes 96, 20, 65 /
arrêt Oberkampf -
Phone : +33 (0)1 42 74 47 05
Open from Tuesday to Saturday
from 11am to 6:30pm
PRESS CONTACT
Anaïs Tridon
+33 7 81 31 83 10
Les Filles du calvaire gallery is pleased to present Pollen Song, the first solo exhibition of American artist Ethan Murrow at the gallery.
With virtuosity, he creates theatrical and extraordinary stories on paper, exploiting changes of scale to create striking perspectives.
Detailed and surprising, his works feature hybrid characters, half human half plant, whose attitudes combine adventure, derision, pleasure and sometimes defeat.
For this exhibition the artist has produced a set of exceptional works that invites to a meditation about nature. In black and white or in color, they are displayed in situ, including a large composition on the walls of the gallery.
It is by delving into memories of his childhood at his parents' farm in rural Vermont that Murrow composed his drawings, so close to nature in which the character melts.
This nature is abounding, and they try to tame it by technique, patience or cunning. Their efforts, probably in vain, bear witness to their optimistic commitment.
In his drawings, Ethan Murrow presents characters in the midst of a struggle, trying to come to grips with their relationship to the earth. He engages in sometimes absurd and epic tasks.
The artist often considers these stories as self-portraits and these works are no exception.
He is the protagonist here, who is dreaming of a flowing market basket and may have missed the warning signs right in front of my face.
Ethan Murrow's drawing, video, sculpture and installation projects delve into the idealized and uncomfortable ways in which histories are told, retold and molded into grandiose narratives.
Ethan received his B.A. from Carleton College and his M.F.A from The University of North Carolina, Chapel Hill.
Recent solo museum shows include the Institute of Contemporary Art Boston, Museum of Contemporary Art Jacksonville and the Clay Center in West Virginia.
Current solo shows include the Currier Museum of Art in Manchester, NH and Duddell's in Hong Kong. His work is part of many public and private collections.
    ETHAN MURROW
POLLEN SONG
EXHIBITION FROM SEPTEMBER 4 TO OCTOBER 23, 2021
OPENING ON SATURDAY, SEPTEMBER 4, 2021 FROM 2 TO 8 PM
About
17 rue des Filles-du-Calvaire,
75003 Paris
Subway : ligne 8
station Filles du calvaire.
Bus : lignes 96, 20, 65 /
arrêt Oberkampf -
Phone : +33 (0)1 42 74 47 05
Open from Tuesday to Saturday
from 11am to 6:30pm
PRESS CONTACT
Anaïs Tridon
+33 7 81 31 83 10