News
52 ARTISTS FROM 11 COUNTRIES WILL BE PRESENT AT THE Salon de Montrouge, WITH MORE WOMEN ARTIST THAN EVER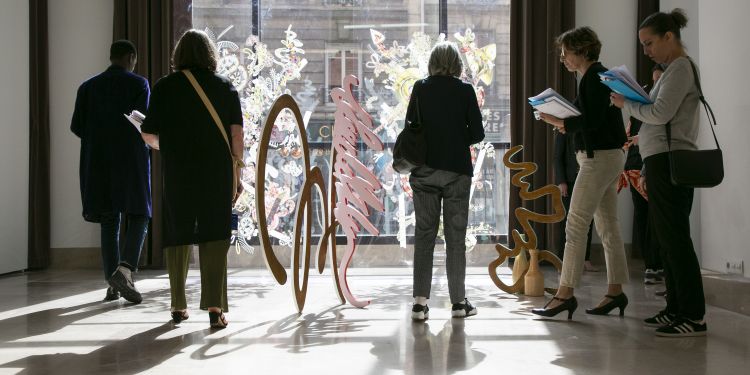 The 64th Salon de Montrouge will feature 52 up-and-coming artists from 11 different countries, a significant proportion of which (31) are female.
 
60% of artists at this year's Salon de Montrouge will be women
A total of 52 artists drawn from 11 different countries will be present at the 64th Salon de Montrouge, held in the 1500 m² exhibition space of the Beffroi, one of Montrouge's most striking buildings, which dates back to the 1930s. Thirty one of these artists are women, representing 60% of the total – a highly significant milestone for the Salon's organizers, for whom gender equality has always been an important issue.
The exhibition area is split into four main sections, with the exhibition design being the brainchild of Vincent Le Bourdon. Entrance is free and open to all – the chance to discover a tremendous variety of artistic creations: photographs, paintings, sculptures, drawings, videos, performance and installation art and more.
Every year, the Salon de Montrouge attracts nearly 25,000 visitors.
The Salon de Montrouge – a long-standing springboard for emerging artists
Founded in 1955, the Salon de Montrouge is a place where up-and-coming artists – regardless of their discipline - can gain an introduction to a wider audience and receive encouragement and support. The salon's vision is to offer gifted young artists a platform from where they can showcase their work, meet new people and raise their profile, both amongst contemporary art industry professionals and the general public. Organized and funded by the town of Montrouge, which is well-known for its support for the contemporary arts scene, the Salon has helped launch the careers of numerous artists including Felice Varini, Hans Bouman, Valérie Favre, Georges Rousse, Hervé Di Rosa, and, more recently, new luminaries of the art world like Théo Mercier, Pauline Bastard, Marion Bataillard and Clément Cogitore (winner of the Prix Marcel Duchamp 2018).
Ami Barak and Marie Gautier took on responsibility for the Salon's artistic direction in 2016. They're back again this year, along with a selection committee composed of key industry figures from the contemporary arts world.