News
New! Arteïa Connect makes the link between the physical artwork and its certificate of authenticity, secured by the blockchain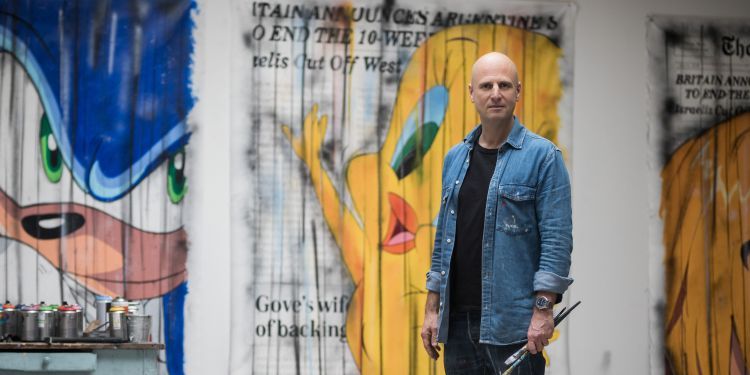 About
Press contact:
Lindsey Williams
CONTACTS
& DOCUMENTATION
Lindsey Williams
lwilliams@communicart.fr
+ 33 (0)1 43 20 12 13


Arteïa Connect is an authentication solution that provides a totally secure link between a physical work of art (painting) and its certificate of authenticity, secured by the blockchain. 
Pour la première fois, mises en vente via NFT 32 peintures originales et éditions papier de Benjamin Spark, signées et numérotées, sont reliées, via une puce NFC sécurisée, à leur certificat digital d'authenticité ancré dans la blockchain.
For the first time, 32 signed and original paintings and limited paper editions by Benjamin Spark  will be offered for sale via NFT, linked, via a secure NFC chip, to their digital certificate of authenticity embedded in the blockchain.
Arteïa is partnering with French-Belgian artist Benjamin Spark (Vision XR Gallery) to create an innovative art authentication solution using blockchain technology and an NFC chip. 32 physical works of art by Benjamin Spark, including 2 original works and 3 prints in an edition of 10, signed and numbered by the artist, were put on sale on Saturday, May 8 via a unique NFT (non-tungible token) representing the certificate of ownership of the work. 
The NFC chip gives access to all the information of the physical artwork on your phone in a secure way.
Arteïa, uses ultra-secure NFC chips to authenticate works of art or collectibles. NFC for "Near Field Communication". The NFC chip is similar to a sticker containing electronic components that can store information. All smartphones are able to scan and interact with NFC chips. It can be scanned by any device, and acts as the artwork's unalterable digital fingerprint. 
Arteïa Connect, is the authentication solution for artworks in a unique ecosystem linking physical objects to their digital representation.
Arteïa Connect is an innovative and unique solution for art authentication and data verification using blockchain and NFC chip technology. Thanks to this technology, the object, sold by an artist, a gallery or a museum, is secured via an NFC chip, which can be authenticated easily, quickly and securely using Arteïa's mobile application. The object also comes with a certificate of authenticity with a similar NFC chip associated with it. This synergy of technological solutions forms a unique ecosystem linking physical objects to their digital representation.
Founded by experts in technology, finance and art, Arteïa develops digital solutions for the art market.
Arteïa is a creative and visionary company, bringing digital solutions to art world professionals: collectors, art dealers, galleries, fairs... Founded in 2016 in Brussels, Arteïa, whose first product, Arteïa Collect, was launched in October 2018, was born from the desire to bring more transparency and security to the art world.Today, with its expertise, Arteïa has grown from an eponymous solution (art cataloging platform) to a provider of plural services, using its cutting-edge technology to meet the needs of the art market. To date, it has developed several digital offers for professionals:
- Private or public collection management platform
- Digital catalogue raisonné anchored in the blockchain.
- Online viewing room for artists and galleries
- Arteïa Connect, solution for the authentification of artworks 
About
Press contact:
Lindsey Williams