News
ARTIST AND MASTER OF ART Pierre Bonnefille UNVEILS HIS NEW SERIES "ICE PAINTINGS"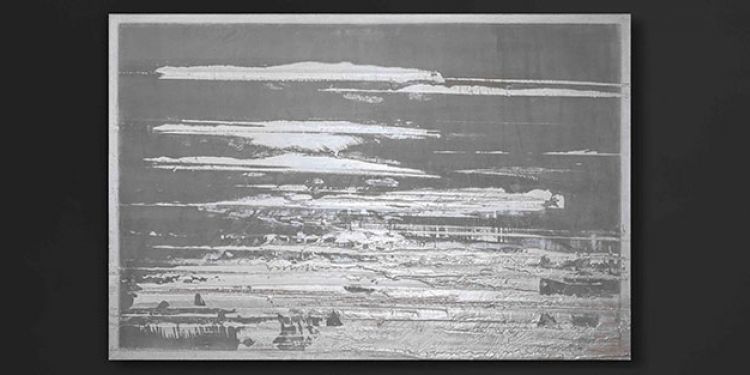 About
PIERRE BONNEFILLE
5 rue Bréguet 75011 Paris
T. 01 43 55 06 84
By appointment.
Painter, designer and Master of Art, Pierre Bonnefille presents his new series of abstract and sensory paintings, called Ice Paintings. This new series that are inspired by the cold, follow his famous signature works, 'Bronze Paintings', where the materiality of bronze, suspended from a metallic mesh, reveals landscapes and textured reflections that resonate with light.
VARIATIONS UNDER POLAR LIGHT
Through his new series of works 'Ice Paintings', Pierre Bonnefille explores the reflections of light on icy matter. He imagines ethereal landscapes of earth frozen by bitter winds. Captivated by the intense presence of ice-covered matter, the artist drew inspiration from the water trapped in the ice. 
Inspired by the discovery of glaciers during a trip to Chilean Patagonia, and by the particular atmosphere that emerges from these immense mountains of ice, which liquefy slowly and flow suddenly, Pierre Bonnefille has worked on his new works by composing mixed materials with mother-of-pearl powders, whose iridescent reflections reveal the fragmentations of the ice under polar light.
The liquid element in constant evolution, sometimes solid and opaque, at times evoking its natural clarity when the ice melts, varies under changing light and offers a sublime and infinite spectacle that the artist transcribes on his canvas.
PIERRE BONNEFILLE, ARTISTE DE LA MATIÈRE
Like an alchemist, Pierre Bonnefille plays with colour harmonies. Inspired by nature and his travels, the living surfaces of Pierre Bonnefille's works, as is only to be expected of this artist of materials and coloured textures, occupy the space and create a unique sensorial atmosphere. 
Pierre Bonnefille's polychromatic works call upon pigments from the four corners of the world, which he uses to create the illusion of smooth and creamy textures and a surface in perpetual movement, reflecting light and making contours sublime.
Over the last 30 years, Pierre Bonnefille has applied his inimitable expertise to wall compositions and furniture, giving rise to an abundant production for private projects, institutions and luxury brands (Cartier, Hermès and Loro Piana, to name but a few).
About
PIERRE BONNEFILLE
5 rue Bréguet 75011 Paris
T. 01 43 55 06 84
By appointment.