News
Panzano Arte, FIRST ARTISTIC PROMENADE ACROSS TUSCANY WITH NATHALIE DECOSTER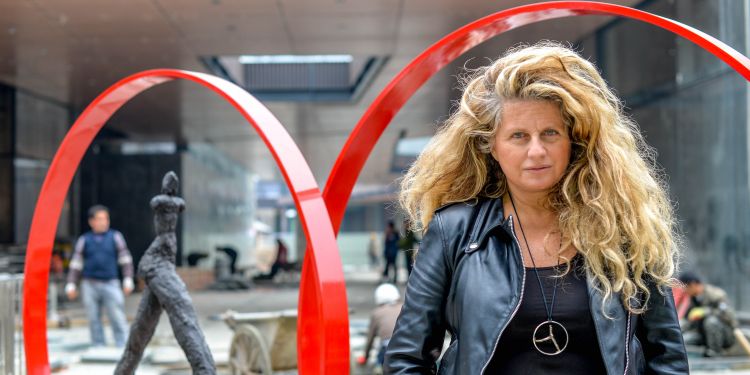 About
Panzano Arte
Tuscany, Italy 
From 22 June to 18 September 2019
From the 22nd of June to the 18th of September 2019, Panzano Arte presents the first edition of its artistic promenade across the heart of the Chianti region in Italy, with sculptures by French artist Nathalie Decoster.
"Panzano in Chianti is a truly enchanted village set in the rolling hills between Florence and Siena. Its pebbled paths, lined with cypresses, meander through the vineyards. There is no better place for an artist to share her humanist and contemporary work" Nathalie Decoster.
Internationally celebrated sculptor, Nathalie Decoster, explores the human condition through her art, creating a universal language of its own.
The philosophy at the heart of her work explores our relationship with time and nature. It is a spiritual invitation; Nathalie Decoster makes us aware of the value of time – the time we give and the time we receive. The time that is our life…
The title of her iconic sculpture, Le temps qui passe, perfectly illustrates her positive vision of the passing of time, one that grants us access to wisdom and serenity. We rediscover so systematically the human form in her work: it is the faithful messenger as it represents each of us evolving with geometric shapes, transmitting access codes to find serenity.
Panzano Arte was created with the purpose to present artistic projects in public spaces that bear witness to modern humanism. It aims to deepen our understanding of issues relating to culture, spirituality, freedom, human rights and the environment. Since the Renaissance, the village of Panzano has been a bastion of artistic, spiritual and ecological values. As a result, it was natural for Panzano Arte to invite Nathalie Decoster for its first edition.
The artistic promenade across Panzano covers 29 sculptures – mostly monumental. It begins in the intimacy of the village itself, continues through the bucolic landscape, taking us to four iconic wineries that participate in the exhibition: Fontodi, Renzo Marinai, Tenuta Casenuove and La Massa. It is a unique artistic experience.
The exhibition offers a unique way to discover the charms of Panzano and meet the ambassador of the Panzano Arte, Dario Cecchini. Cecchini is the world famous butcher-poet, known for his philosophical and artistic outlook, as well as the excellence of his gourmet restaurants. An episode on the hit Netflix series, Chefs Table, was recently dedicated to him.
The annual Wine Festival, from 12 – 15 September 2019, will add to the experience as it is visited by thousands of wine lovers from all around the world.
Nathalie Decoster believes "art is the essence of the people in Panzano" and Panzano Arte has created a true artistic journey across Chianti.
About
Panzano Arte
Tuscany, Italy 
From 22 June to 18 September 2019